Towering above the Airway overpass, illuminating a tourist-dense section of the I-10 corridor, stands a new public art installation quite unlike anything in the El Paso area to date. Standing over 40 feet high, giant steel sculptures reflect sunlight with an almost porcelain quality, crowned with wind turbines that generate electricity that is then stored to a power grid during the day. When the sun sets behind the Franklin Mountains, this deposited power is released in the form of a colorful light show that can be seen from over 15 miles away. Not so coincidently, these spinning turbines, inspired by the concepts of wind and flight, were strategically placed less than a mile from the El Paso International Airport signifying upward movement and a towering symbol of welcome to those visiting the city.
"I find myself looking forward to passing this place on my way home after work every day," says Celia Vega, a lifelong resident of El Paso. Vega says, "Traffic is frustrating and exhausting, but somehow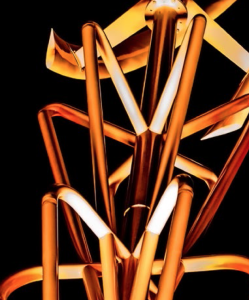 these beautiful structures capture my attention and my curiosity, taking my mind off the drive." Alongside these massive turbines stand smaller sculptures, reduced in size but not in elegance, of desert flowers budding and blossoming in the El Paso sun surrounded with desert foliage not unfamiliar to a local eye. The wind turbines and related radial sculptures create a light garden that resonates with themes of growth alongside the native desert landscape.
Scuri is a seasoned artist with over 28 years of experience specializing in collaborative public art, and she has plenty to say about her project over five years in the making. Scuri says, "Our work speaks to capture the essence of this place, creating a local landmark that offers a unique visual expression." Scuri and her team inclusive of Jacobs, AIA, ECM International, Jordan Foster Infrastructure, UGE and CAID Industries, strived to create a piece that was exceptionally different, and yet special for the local community and visitors alike. "The Airways' Aesthetics Project is best described as a City Gateway," says Scur, "a symbol of Welcome to its neighbors, citizens, locals and visitors from around the world."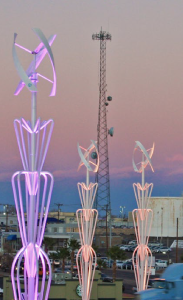 This public art piece is a part of a much larger project to infuse art and culture along this portion of the I-10 strip. The City of El Paso has also integrated some specialty lighting that arc across the freeway downtown as well as the artful metal work on those same overpasses and crosswalks.  There are also many sculptures that can be found in the medians at major intersections in town such as Airways and I-10 and on Country Club Drive in West El Paso. "This project is one of numerous recommendations that evolved from the I-10 Aesthetics Master Plan, commissioned by the City of El Paso, CRRMA and TxDOT," explains Scuri.
To read the full story – pick up your copy of issue number 12 at the Art Avenue Gallery