By Elena Marinaccio
Photos by Rickie J
Illustration by Mercedes Lopez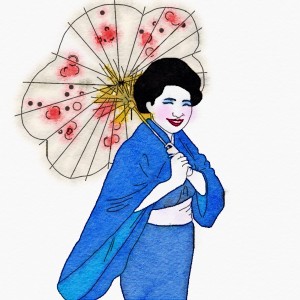 "This is probably the funniest of everything they wrote," says Stephanie Conwell, artistic director at The Gilbert & Sullivan Company of El Paso. She's smack in the middle of Thursday late-night rehearsal, as 50 or so actors buzz around her, gabbing, applying stage makeup and running lines for their upcoming production of The Mikado, the nearly 130-year-old comic opera. She is both the organized matriarch and doting mama of this 45-year old company.
The current production of The Mikado, set in Japan and first performed in London's Savoy Theatre in 1885, centers around a different kind of family vibe—one with a more Shakespearean bent. "It's about bloodthirstiness…and yet it's all very fun—the show's not ghoulish. It pokes fun at bloodthirstiness," says Conwell, who took over as artistic director in 2009 after the company's founder Joan Quarm directed her last show at age 90. Arguably Gilbert & Sullivan's best-known operetta, The Mikado tells a complex story of forbidden love, deception, and yes, lots of beheadings.
To read more on The Mikado, pick up a copy of The Art Avenue magazine at Corralito Steakhouse.
The Mikado
Chamizal National Memorial Theater
800 S. San Marcial St.
El Paso, Texas
Friday, July 25 at 7 p.m.
Saturday, July 26 at 7 p.m.
Friday, August 1 at 7 p.m.
Saturday, August 2 at 7 p.m.
For Chamizal National Memorial Theater ticks and reservations call 915-591-6210
Black Box Theater
430 N. Downtown Mall
Las Cruces, New Mexico
Saturday, July 19 at 2:30 p.m.
Saturday, July 19 at 7:30 p.m.
Sunday, July 20 at 2:30 p.m.
For Black Box Theater tickets and reservations call (575) 523-1223
Tickets: Advance purchase: $10 adults / $8 students, seniors and military; At the door: $12 adults/$10 students, seniors and military; Group rates are available.