By Victoria G. Molinar
Nearly 75% of the cut flowers we see in floral shops and grocery stores in the U.S. come from South America, according to local flower grower Emily Calhoun.  Considering the environmental and monetary expenses, she decided to offer a more personal, cost-efficient alternative to the way people beautify an occasion.
Thus her business, Floriography, blossomed.
There's something magical about a bouquet that comes from her flower farm in La Mesa (located off the beaten path between El Paso and Las Cruces, NM). The only known specialty cut flower farm within about 450 miles of this area, the work that goes into the flowers alone makes their existence special.
Calhoun starts her days at 6 a.m. tending to the native plants (like gaillardia, penstemons and a variety of sages) she grows on the farm. She also grows many common favorites, such as tulips, peonies and roses.
Calhoun's environmental consciousness also adds a moral charm to her business.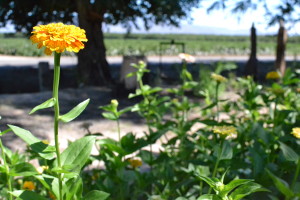 "We have people who love and support the fact that we recycle our vessels, use tin cans from the soup kitchen and have pick-up locations," said Calhoun, "One of the reasons we deliver our subscriptions on specific days is so that we can cut the amount of trips down between our farm and the delivery spots, which minimizes our carbon footprint."
For more information on Floriography, visit FloriographyNM.com and Facebook.com/FloriographyNM or call 575-932-8853.
Photographed by Victoria G. Molinar