Acoustic harmonies and vocal melodies fill the air as rays from a rising West Texas sun peek through the leaves of the pecan trees on Sonic Ranch. Aspiring musicians are in the middle of an intensive musical adventure called Cardo Camp: three days and two nights of 24/7 artist development and one-on-one training in a state of the art recording facility with world renowned producers and musicians. Cardo, the camps' founder, has been in the music industry for nearly 40 years and has a deeply rooted desire to create his own music and foster talented young artists who have a passion to do the same.
"The number one goal of Cardo Camp is artist development," says Cardo, founder of Cardo Camp. He explains that this is the void in the music industry that he and his team are striving to fill in the Southwest. Cardo says, "One day I was online and I read a blog about musicians in this region. The first few sentences hit me. It said something to the effect of local and regional artisans run into a roadblock here because the recording resources and artist development just aren't available. It said there are no opportunities to get the proper feedback and exposure needed to succeed in the music industry." Nikki Singleton, a singer/songwriter and Cardo camper explains," I know many wonderful musicians that are holding down coffee shop jobs and going back to school because there hasn't ever been anything like Cardo Camp here. It's always just been known that if you want to make it, you have to get out." Cardo knows first-hand the challenges in getting proper guidance and exposure anywhere other than Nashville, LA and New York; this fact in addition to his passion for developing young talent drove Cardo to develop Cardo Camp.
"Once music gets in your blood, it never leaves," says Cardo. In 1967, a 15 year old Richard "Cardo" Swartz wandered into a Buffalo Springfield concert, a first-of-its-kind rock band, and left three encores later utterly transformed with Rock N' Roll coursing through in his veins. Before this encounter, he had only played a little violin and piano and had a remedial knowledge of the guitar. In college, Cardo immersed himself in music—playing in garage bands, working as a radio deejay, and, after college, starting up a concert promotion company with business partner Jay Hamon and quickly became a name in the industry. They were instrumental in kicking off the first American tours for 70s powerhouses Heart and Rush. After the tragic death of Hamon in 1978, Cardo decided to go back to school earning his MBA from the University of Michigan. "Right about that time I set my guitar down and I didn't pick it back up again for 25 years," says Cardo. With his master's degree in hand he had job offers from several reputable companies but quickly realized the music business was where he belonged. "I got back into the concert promotion business in the late 90s until the early 2000s," says Cardo. During this time, he worked with the Eagles on their reunion tour and with big name artists like Tony Bennett, Johnny Cash, and the Dave Matthews Band.
Shortly after the death of Cardo's father, his mother's health began to decline and he moved in to take care of her. Late one night, unable to sleep, and for reasons he himself can't explain, Cardo was compelled to dig out an old guitar and strum a chord for the first time in nearly 25 years. "Once I began to play, I realized this is what was missing in my life at that point." After many years of promoting other bands and getting other artists the exposure they needed, Cardo decided it was his turn to make music. Multi-Grammy winning producer David Kershenbaum took Cardo under his wing and began to mentor him as a musician. "He said I was an okay singer, an okay guitar player, but as a songwriter I was a nine out of ten. That was the greatest compliment I've ever received," says Cardo. He released his first album called Cardo and Friends through his own record label CardoTunes produced by his mentor. One of Cardo's personal goals is to be to these campers the kind of mentor that Kershenbaum was to him.
I want to stress that we help cultivate and create music that the bands and singers want,"
says Cardo. "We help the campers convey their intentions, goals, and the sound that they are trying to get out there. Not necessarily what we want." Singleton echoes these sentiments saying, "Sometimes producers take advantage of the musician and steer them in a direction they don't want to go. What was so incredible for me was they wanted to keep my music true to me." In addition to musical training and feedback, Cardo Camp instills music industry-specific knowledge. "Sometimes it's like, Okay, now I have a song, but what do I do with it?" says Cardo. Each camper gets an intensive overview on how to distribute their music and deal with music labels. Cardo explains that a handicap in this region is the inability to receive constructive feedback. "Not from friends or band members, because they'll just tell you what you want to hear," says Cardo, "but from people who know what to listen for and will tell them what they need to hear."
"The pecan farm is the perfect creative environment," says Cardo. With little to no light or sound pollution and the rustic beauty of nature all around them, Sonic Ranch provides peacefully constructive ambiance for musical development. The campers even stay at the ranch—putting them within walking distance from a studio—so when inspiration hits, they are not far from a microphone. Cardo explains that while the competition is fierce in the application process, with every entry carefully considered, everyone who pays for their submission and meets the criterion of Cardo Camp will get radio time on CardoTunes Radio online for a period of at least four months, even if they are not chosen. This is exposure which is so instrumental for up-and-coming bands and singer/songwriters. Singleton is the first artist to be signed to the Cardo Camp label and she speaks very highly of this musical workshop that Cardo has created. "Cardo Camp is the most humble of causes, giving new artists an opportunity to get their voice out there. It's been a huge turning point for me," says Singleton.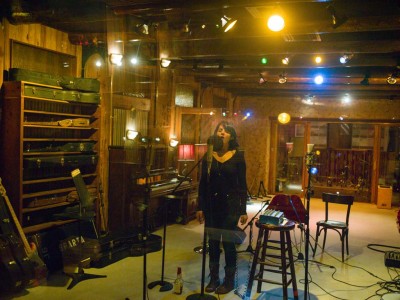 This region and his hometown El Paso has always played a huge role Cardo's life. As a concert promotor he strived to bring big name artists and bands to the borderland and through Cardo Camp he is continuing to enhance the musical community here. His young heart began to beat with the rhythm of the music after one concert so many years ago. With all the graduates coming out of Cardo Camp workshops who are sure to put on concerts of their own, a musical epidemic is coming. Remember what Cardo says, "Once music gets in your blood, it never leaves."
For more information visit cardocamp.com or facebook.com/cardocamp
Photos courtesy of Cardo Camp