A split show between El Paso artists (and family members) Adriana Peraldi and her uncle MARINO memorialize their beloved Beatriz: mother, creator and patron of the arts.
Story by Kimberly Rene' Vanecek
Photographs by Jorge Calleja and Fredesvinda Rojas
One woman a day is diagnosed with breast cancer in El Paso and two women lose their battle to this horrific disease every week in our region.* Beatriz Rios was one who lost her life to breast cancer 35 years ago, and this month her daughter celebrates her strength, courage and legacy in her exhibit Un poco de lo mucho de Beatriz, which premiered earlier this month at The Art Avenue Gallery.
Beatriz Rios was a mom, a wife, a lover of the arts and promoter of artists. Rios worked with established and notable artists like painter and sculptor Leonardo Nierman, Mexican painter Diego Rivera and Swiss artist William Kolliker. Her admiration in this field was inherited by her daughter Adriana Peraldi who grew up in Ciudad Juarez and began playing in the arts around the age of four. The noteworthy artists her mother embraced fascinated Peraldi. "There were all these famous people she helped to get their art noticed," said Peraldi, "It was around the age of 13 or 14 that she would introduce me to their fabulous colors, textures and dimensions. It was just amazing—the artists and the art."
Peraldi, an artist in her own right, says she's grateful for her talent, investing her energies over the last year translating that gratitude onto canvas, releasing her emotions and reflecting on her mother's struggle with cancer: fighting the gossip in society, the art, family and friends with this deathly illness. "I grew up with her looking at how the breast cancer invited itself into her body and how she was fighting to keep alive, because she was really, really fighting against all odds and during the eight years you never noticed when she was in pain," said Peraldi.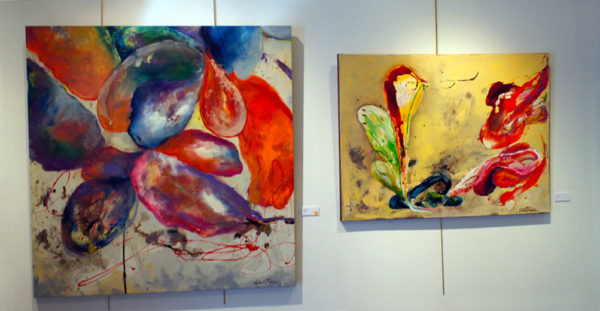 Peraldi splits her collection Un poco de lo mucho de Beatriz (a little bit of a lot of Beatriz) in half, sourcing societal impacts on one side and emotional influences on the other. She explains how the cancer personally affected her mom, and through her paintings she creates human images of society and the mutated rumors it spreads and reveals her story onto canvas, masonite and fabric. "She was a beautiful and elegant woman—very popular, and at that time nobody would talk about breast cancer. She lost everything. She had a double mastectomy, she lost her self-esteem, her identity, her marriage, the husband, everything," said Peraldi. "Even though the husband was there, she lost everything and how she was keeping life straight and working to keep the family together and saying 'I'm ok, I'm fine and I'm going to fight.'"
From an emotional perspective Peraldi's works are filled with passion and strength displaying bold red and blue shaped balloon images contrasting, intermingling and chasing morphed layered purples and greens. Other pieces reflect an explosion of dark colors splattered throughout the canvas overlapping various shaped images perhaps reflective of anger or disbelief.
"I tried to concentrate all the emotions—when you have it here," said Peraldi, pointing to her stomach, "even when you are happy maybe some pieces are sad, but there are happy ones. The first emotion, where do you feel it? Aqui," she says, again, for effect, pointing to her midsection. "For me really I think I feel everything here first, then from there it goes to the head then the heart, that is how I process it."
And as processes go, for this exhibit Peraldi changed from painting definable human forms with acrylic to creating abstract images with mixed media and incorporating elements used in creating stained glass. "Experimenting I think is the best thing that can happen to the artist—and seeing how the colors come out and using transparencies," said the artist who currently lives and works in El Paso and tends to lean towards her favorite color when creating art work. "When I use the color red—I like the color red—and when I saw the stained glass mixture and transparency came with the red, for me it was like the transparency was blood…and I equate that with love."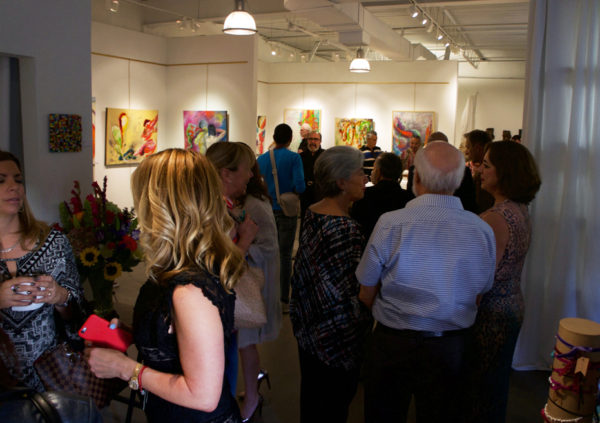 Art certainly seems a talent that runs in the family. Rios' brother Marino is also an artist (he began drawing in high school) who participated in the exhibition. From a tenured surgeon who retired two years ago to a flourishing sculptor, MARINO (the all-caps byline he prefers to distinguish his art)) uses various types of reclaimed wood found in his yard and incorporates them into his bronze sculptors. "I save these pieces of wood for 25 years in my garden, they were calling me for something," said MARINO a life-long resident of El Paso. "I would look at them and think of what I wanted to do with them and then the sculpture manifested itself when I started to work with the wood." MARINO said the wood was initially destined for the fireplace, but instead he took the wood in his hands and explored the texture, weight and length of the piece, turning it over and over allowing a relationship and an idea to formulate—then he would sketch out an image.
MARINO said he was influenced by local notable sculptor Julio Sanchez de Alba and has admired his work over the last few years. He claims that even though he followed Sanchez de Alba's work, he is a self-taught sculptor.
"The fact that I am a head and neck surgeon, I know the anatomy well and that allows me to create or build a head," said MARINO. "It doesn't take me long because I know the bony structure which is the muscles and everything. It's the gestures that are determined. In "Tree to Tango" I saw the wood first and then I imagined a couple dancing—but I had a third piece [of wood] so I incorporated it into that and so it's a couple dancing the tango and I wanted to give an expression to these people not just a face."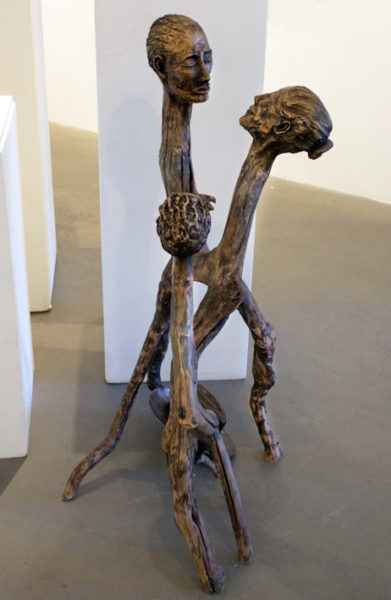 "Tree to Tango" is a carefully crafted piece created from the wood of a Vitex tree popular in the area that blooms purple flowers in the spring, mimicking that of a lilac. The sculpture reaches 42 ½" tall and nature created the base of the piece representative of a couple's legs poised ready to take the next steps in a tango. MARINO carefully constructed the bronze heads of the couple, paying great detail to the man's face looking down towards his female companion, expressing Argentinian arrogance mixed with the stubbornness of his culture. He positioned her gazing into the eyes of her partner, suppressing what might be laughter, as she seemingly tolerates his authority over the dance steps; All the while a young boy looks on in amazement as the two are entangled in the dance. Whether the boy is the son of the couple or a simple by-stander, MARINO says it is for the viewer to decide.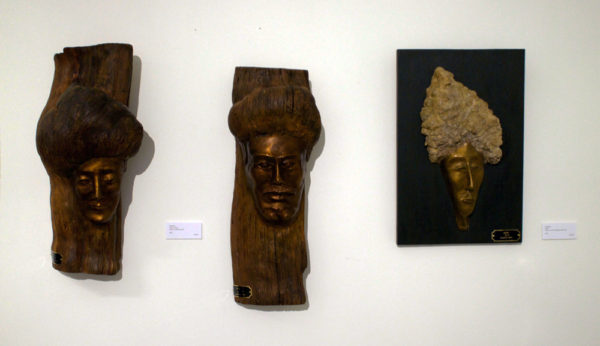 Peraldi did not hesitate to include her uncle's work in this exhibit. "He's part of Beatriz," Peraldi said. "He's always loved art and I saw he was working with wood and sculptures…MARINO is el sangre [the blood] de Beatriz, he is the brother of Beatriz."
* Sources: North American Association of Central Cancer Registries & Center for Disease Control & Prevention (2006-2010, per 100,000 people)