Jack* leans back in his comfy cloth recliner, the sunlight highlighting his curly gray hair. He is surrounded by a group of people, each in their own world until the music begins. Tony Bennett croons in the background. Evelyn, who was quietly composing a letter, begins to mouth the words to "Fly Me to the Moon" and Felix taps his toes and snaps his fingers. The room fills with energy—Alicia and Tom move off the couch and dance about the room, never missing a beat to the famous song that touched a nation over 50 years ago and now is igniting memories that were thought to be long gone.
are implementing a Music & Memory program to assist its residents and guests trigger memories and recall pleasant times of the past. The Art Avenue had an opportunity to visit with sales and marketing director Febe Leyva to learn more about this program and its effects on the residents.
The Music & Memory program is an extension of an original art therapy program, Reflections, at the SunRidge facilities. Tell me about this new platform.
We started to offer the art, but we have included music and creative writing programs and extended the benefits of this program to the assisted living and independent residents. SunRidge's commitment to the arts doesn't stops with painting. Music participants learn percussion, sing and dance to classic favorites. Music can evoke emotion in even the most advanced Alzheimer's patients, helping them recall precious memories.
How did you come across this new opportunity?
We recently added to the music program. SunRidge at Cielo Vista is joining forces with a group of students from Valle Verde Early College High School who are members of the El Paso affiliate of FBLA (Future Business Leaders of America) to incorporate the Music & Memory program.
How does the program work?
The Music & Memories approach is simple, elegant and effective. We have one-on-one opportunities to meet with the students and ask them questions about their past and perhaps what music they enjoyed listening to while growing up. The teachers and the students work together to set up personalized music playlists, delivered on iPods and other digital devices, for our Alzheimer's residents. What is significant is these musical favorites tap into deep memories not lost to dementia, and can bring participants back to life, enabling them to feel like themselves again— to converse, socialize and stay in the present.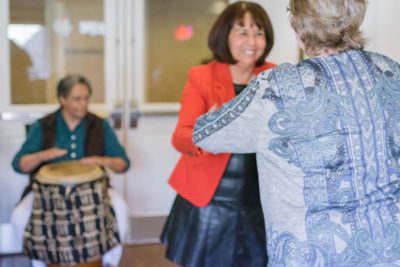 What are the music conversations like between staff and students?
We bring them back together and they talk about their favorite songs and perhaps what events they remember that were related to the music. What memory was sparked—some music reminded one student when she danced with her husband while others tell stories of a time where the music was coupled with pleasant experiences in their lives. They have conversations, telling stories and they listen to each other's songs, and sometimes they dance and sometimes they sing.
Does there seem to be a particular genre of music they prefer?
Oh yes, they love Elvis Presley the most! They always sing and dance to him, but they love the Big Band era music, Jazz and they enjoy Ritchie Valens too. Sometimes they are so involved in the music, they don't want the sessions to end.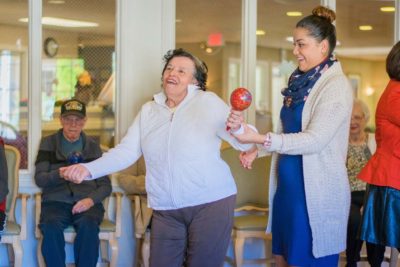 Reflections has been an art therapy program at SunRidge for just over a year now. How many facilities are using this program and how successful has it been?
We have the Reflections program in all four communities. We have enrolled 135 students who have created 168 pieces of art.
You mentioned you are adding on to the music component.
Yes we also offer students an opportunity to play on musical instruments or learn a new device.  This is addition to another component we added in February and that is a creative writing class.
You've partner with El Paso Community College for a unique writing collaboration. This is also an avenue for residents to refresh their memories as well. Are the residents writing their own stories?
No, many of the residents can't write anymore. El Paso Community College Students (that have been trained and carefully selected) conduct a series of interviews with residents, who share special memories that are crafted into a "Life Story." The students compile those thoughts and information and then conduct research off-site. At the end of the semester a creative treasure is written that the resident's entire family can enjoy for years to come.
Studies show that programs in the arts and music are therapeutic for the elderly. Have you seen a change in the students attending these programs?
Absolutely, we have noticed that the creative mind allows residents to enter their own world, providing mental rest and relaxation. In a strong state of concentration, artists abstract themselves from their surroundings and time passes quickly without noticing it. With the music program they evoke emotion, helping them recall precious memories. In the Alzheimer's classes we have noticed how they advance in their ability to concentrate and express themselves.
I understand some of your locations are opening the classes to the public. How does that work?
Yes the classes are open to the public in any of our four SunRidge communities. So far we have had few participants, however, we are partnering with the following agencies to bring Reflections to their seniors and patients: Alzheimer's Association Early Stage Group, Bienvivir Al- Inclusive, Highlands Rehab Hospital, St. Giles Nursing Home and Salubris Day Care. We are also initiating a partnership with University Medical Center to bring the art program to their geriatric unit patients.
Reflections art program recently hosted a pop-up gallery in downtown El Paso. Can you tell me a little bit about that and how that came to fruition?
We wanted to organize an outreach event to create awareness among El Pasoans and when we approached County Commissioner David Stout to extend him an invitation to host a permanent art exhibit in his office he decided to partner with us to create a public pop-up gallery.
El Paso Community College is hosting another pop-up gallery in April at their Northwest Campus Library. The art exhibit will also include samples of the creative writing "Life Stories."
Does each semester lend a new theme to their class project?  For example, previously there were birds and animals, the pop-up was Loteria cards—what is the theme classes are currently working on?
As we have recently initiated a partnership with Pro Musica to bring live music to the classes, we are embarking on a musical instruments theme. We have also approached the Mexican Consulate to host an exhibit, as we have a large population of Hispanic residents. Therefore the next project will be "Mis Raices" (My Roots). Artists will paint landmarks from their hometowns.
Because the Reflections art program was developed as a way for residents to express their unique voices through visual media we had a commemorative theme class as part of the historic Pope Francis visit to the border region.
Can attendees of these events purchase the artwork?
We are in the process of deciding when we will start selling the artwork. In the mean time we have been donating artwork to support non-profit organization's fundraising events and also community projects like the 2015 Junior League of EP's Provisional Class who joined forces with the Center Against Sexual and Family Violence (CASFV) to help improve the Fun Zone and Playground at the Family Resource Center. Our residents donated ten pieces of art for the Fun Zone.
*The names in this story have been changed to protect the individual's privacy.