Story & photos by Eddie Cepeda
Walking into Tabla between lunch and dinner crowds, the juxtaposition between the tapas restaurant's luxe style and its owner's unassuming manner is hard to ignore. Norbert Portillo is wearing jeans and a Tabla t-shirt, talking about his hot-dog culinary adventures in Chicago (he had just landed in El Paso a half an hour before) and remembering when Tabla was but a chimera, a pipe dream he hoped El Paso would embrace one day.  But for people who know Norbert, the owner and chef of this now downtown staple restaurant, his unfussy style is nothing new. This is a guy who's paid his dues and who knows his food.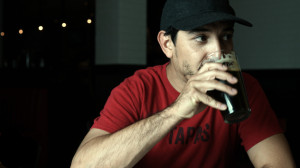 I met him some ten years ago. With livers that were a decade younger and ambitions big enough to overwhelm conversations, we drunkenly (but passionately) spoke about how El Paso was missing truly masterful, thoughtful cuisine. Though I don't promise our 20-something blitzed selves were incredibly articulate that time of the night. Still, the sentiment and the zest were there. I don't remember everything he said, but I remember knowing, even then, that if this guy started a restaurant, he'd change the El Paso food landscape.
He had just moved back from Portland, having worked at Park Kitchen and Simpatica, where as he puts it "I mean, the farmer was the one delivering our food to us. " And while Tabla is not quite Farm-to-table yet, Portillo dreams of the day El Paso can sustain a place like that .
He did however, forge a new culinary path for El Paso , but it took a while. Starting on salad duty at a local eatery, he wouldn't have a chance to flex his culinary muscles for some time. "It was one of those jobs that was just monotonous ," he says over a glass Tabla's house made sangria.
I didn't keep much in touch with Norbert over the years, though I would occasionally run into him (once when he was a barista at Starbucks). For a minute, it seemed as though maybe El Paso had no intention of nurturing young talents like his. Then he got his chance with Ripe. With Norbert now at the helm of this Westside eatery, they sparked the brunch craze, transforming it from stale buffet food, to the Sunday ritual we know now: fresh, artful dishes that both families and hungover twenty-somethings deplete before putting the weekend to rest. Norbert played a pivotal role in making brunch a thing in El Paso. Really.
Then three years ago, his vision went from dream to a restaurant that's both regal and comfortable. When Tabla opened, Portillo delved head first into a concept that never seems to work here: the tapas bar. But while tapas bars come and go, Tabla has the formula down. When I ask him why generally the tapas concept is such a hard sell here in El Paso, he doesn't understand why it wouldn't make sense . "It reminds me of how I used to eat growing up. We always ate as a family…my mom would put a bunch of food on the table and we'd all just kinda sit there and eat and interact or whatever ." This is probably true for a great majority of us. Who doesn't remember conversations with family over an assortment of home-made offerings spread out over the table?  Is that really so different from tapas style dining?
"One of the things that has changed is this younger generation that's coming back to El Paso… They're the ones pushing El Paso to change because they have seen things they like in other cities and want that here," says Portillo, speaking from personal experience. Whatever the reason, the change is evident ."This is the fastest I've ever seen this city move" , he says as he brings another round of sangrias. "There's a lot of really cool things popping up here in El Paso that are independently owned and have great concepts behind them ."
There is only one other topic that makes Portillo light up more than food. It's food as art. "We're constantly looking for a balance of flavors, I mean that's the main thing you know. It's the only art form that uses all five senses ."