The borderland has proved a worthy muse for many artists seeking inspiration from its peaks and valleys. "The mountains have taught me about line and depth. The desert landscape and its connection with the sky have taught me about space and relationships with color," says Jason Lucero, a borderland printmaker showcasing at the Art Avenue Gallery this month. Printmaking, more than just paint on a canvas, allows for the artist to make a piece of art through the use of different structured, shaped, and textured objects flowing through a printing press layer after layer. Due to this process, the finished product cannot be duplicated—A literal one-of-a-kind creation.
Lucero's exhibit, Various Interpretations of Human Interaction, contains 13 monotype prints. Working intuitively, drawing from within and letting the creativity flow outward rather than using rendered objects or visual guides, is important in Lucero's artistic process. Using his passion as a therapeutic outlet, printmaking has allowed him to bring light and understanding to some dark times in his life. "Even though I am now content, I tend to channel the sad and painful memories when I work, because, as cliché as it may sound, it is therapy," shares Lucero. "I become a few grams lighter when I go to these dark places and transform them into color. From different work experiences, the loss of dear loved ones, and the birth of his son, Lucero says, "I have a large memory inventory, both shallow and deep, in order to keep my art interesting."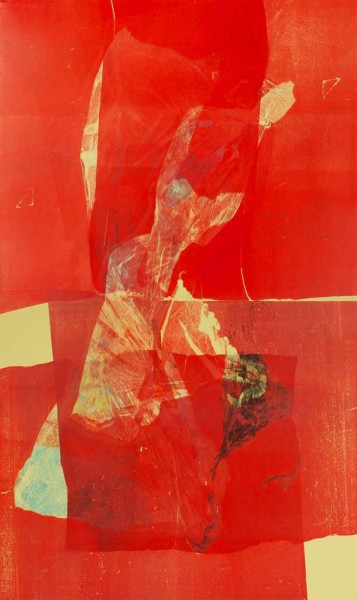 For Lucero, a great satisfaction comes from knowing he started with just a couple of friends in a grassroots artistic movement in downtown El Paso. "You have to remember this was before there were any galleries downtown; we would just walk into small places and ask 'hey can we show some art here?' All we wanted was to share our artwork with the city."
While he has always had a passion for the creative arts, Lucero shared that it did not come naturally for him, which, he says, is a common misconception about artists. "Most artists aren't born with any artistic talent, you have to practice the same strokes and lines over and over and dedicate yourself." Lucero's passion is art by monotype printmaking, although he is also an experienced abstract painter and sketch artist specializing in the human form. To all who will view his pieces, Lucero stresses that in order to truly appreciate them, one must realize there is a reason why they put the word 'work' at the end of art, "I've always been a businessman by day and an artist by night." Odd jobs all over the map from janitorial services and washing dishes to working as a broker and in the transportation industry have all given Lucero opportunities to create relationships that he finds valuable to his artwork. "If you don't take pride in your work, whatever it might be, sweeping, dishwashing, cooking, painting, or driving a rig, you will never be happy at your job and the other parts of your life will suffer," says Lucero. He also explains that unlike in other genres of art, "More than 70% of the time my print is a failure, but I always remember these mistakes create a foundation for my success," says Lucero.
Lucero credits his family, his friends and fellow members of  Maintain (a creative coalition) the many mentors he encountered while earning his BFA in Studio Art from UTEP, and the city of El Paso for helping him realize his strengths to become a well rounded artist. "Everything about this city and its location has had an effect on me. The people of El Paso, are kind, courteous, and giving, which has taught me how to do the same." Of his exhibition Lucero says, "My vision for this exhibition is to share a series of prints, which made me very excited about the process of printmaking, with an audience that may not be too familiar with the process. I hope that, even if people do not entirely understand what is going on in a piece, they examine it long enough to find something about it that relates to their own experience."
Various Interpretations of Human Interaction
Jason Lucero
On Display
August 20–September 20
The Art Avenue Gallery
1618 Texas Ave, Suite E