By Rachel Anna Neff, Ph.D.
UTEP News Service
Some of the most noteworthy Southwestern artists and their work can be found in El Paso, and students dashing back and forth across campus may not realize how many of these artistic gems are hidden in plain sight on the campus of The University of Texas at El Paso.
In order to provide a treasure map to some of UTEP's key and iconic pieces, Stacy E. Schultz, Ph.D., assistant professor of art, created the "Arts on Campus" walking tour, which is offered by the Centennial Museum and Chihuahuan Desert Gardens during the month of May.
Working in conjunction with the Centennial Museum and the University Library's C.L. Sonnichsen Special Collections Department, Schultz selected eight pieces that showcase UTEP's role as a destination for thought-provoking artwork and artists.
One feature on the 60- to 90-minute tour goes against the typical notion of art interaction, as people are encouraged to touch and turn the Bhutanese prayer wheel—a gift from the people of Bhutan to the University—located outside the Centennial Museum. The protective housing, built by El Paso architect and master carpenter Bruce Thacker, uses hidden oak pegs rather than nails to honor Bhutanese construction techniques.
Aside from the University's connection to Bhutan, there is also a strong tie to the Southwest and homegrown artists. One of the earliest pieces on the campus is a decorative architectural detail—known as a lintel—above the Centennial Museum. Designed by Tom Lea in 1936, the lintel depicts Álvar Núñez Cabeza de Vaca. Lea selected this conquistador because Cabeza de Vaca's travels took him through what is now El Paso, Texas.
Drawing on the rich history of the Southwest, José Cisneros' sketches of nineteenth century horsemen line the fourth floor of the University Library. Based on historical records, each of the 100 drawings illustrates Cisneros' detailed and precise cross-hatching technique.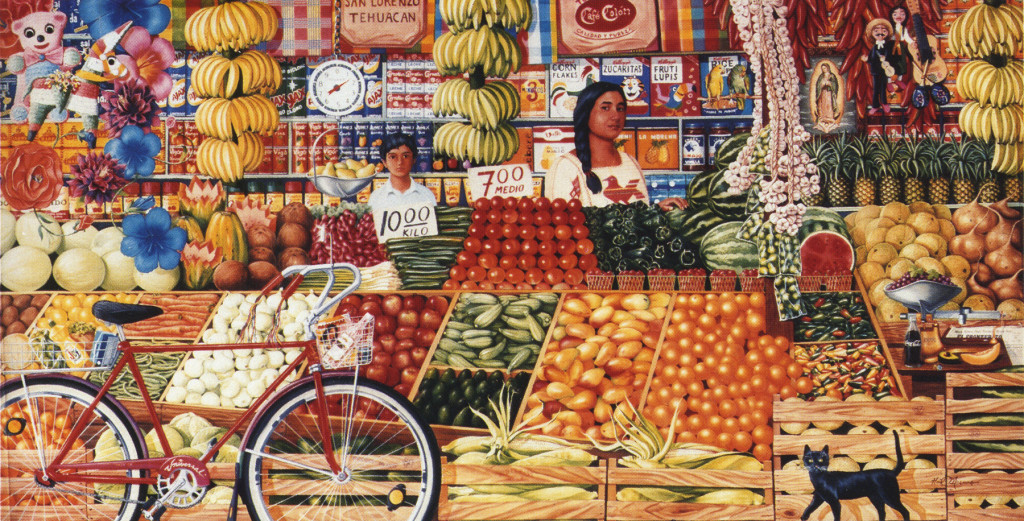 The library also has numerous studies and a print of "El Mercado Juarez" by local artist and gallery owner Hal Marcus. Fascinated and inspired by the colors he saw in the Juárez marketplace with his grandmother as a young child, the mural is full of brilliant tones and life-sized goods.
"I never really went to art school," Marcus said. "All of my colors come from the fruits and vegetables. You say yellow, it's banana. Red, it's an apple. That was my training. So colors, to me, taste good."
The print reproducing Juarez's vibrancy—including boxes of Zucaritas and sliced melons—came to UTEP under unusual circumstances: a pizzeria wanted a copy and Marcus made two, later donating one to the university. The original is on display at the El Paso Children's Hospital.
Outside the University Library is a sculpture resembling a pipe organ by James R. MacBeth. Installed in 1986 when the library first opened, "Texas Wedge" changes color to resemble sunrise or sunset, depending on how the daylight falls over it. Like many artists with public art on UTEP's campus, MacBeth gave his notes and papers to the Special Collections Department. Some of the papers include the materials testing and adhesives behind MacBeth's finished work.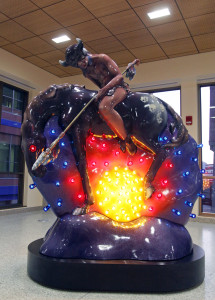 Although the University Library's walls are full of artwork, it is not the only building on campus to display unique pieces. In fact, nestled next to a Starbucks on the first floor of the Chemistry and Computer Science Building is a very colorful sculpture by the acclaimed Mexican-American artist and El Paso native, Luis Jimenez. His sculpture "End of the Trail (with Electric Sunrise)" is an array of colorful lightbulbs under a horse and slumped rider.
Jimenez died in 2006 after an accident in his studio, but his importance to the art world was cemented when his sculpture "Vaquero"—a Mexican cowboy riding a bucking, blue horse—became part of the Smithsonian Museum's collection.
Even the newer buildings on campus have interesting artwork. For instance, underneath a stairwell in the Undergraduate Learning Center is a large, yet delicate piece by trained metalsmith Kim Cridler. She first came to El Paso after receiving an invitation from the art department to participate in a two-person show. Later, Cridler gifted to the university the untitled piece resembling an empty vase made of welded steel with delicate wings or petals covered in animal gut.
On the roundabout near the Sun Bowl Parking Garage is an enormous pickaxe head. Michael Clapper's towering sculpture titled "Mining Minds" represents UTEP's past and present, and was installed in 2010. Clapper included binary code on the top and bottom of the pickaxe. The ones and zeros spell out "Believe in yourself and believe in your dreams. Believe in UTEP and its aspirations. Share the dream!" from UTEP President Diana Natalicio's 2008 convocation speech. On special occasions, "Mining Minds" is lit with blue and orange lights.
The Centennial Museum and Chihuahuan Desert Gardens is open from 10 a.m. to 4:30 p.m., Tuesday through Saturday, and closed on university holidays. It is located at the corner of University Avenue and Wiggins Road. Parking in the Centennial Museum lot is free; however, permits can only be obtained from the Museum Offices located inside the Centennial Museum.
Tour brochures in the Centennial Museum Lobby can facilitate self-guided tours, or visitors can make arrangements for a docent-led tour. For a docent-led tour, contact Maribel Villalva at 915-747-6669 or mvillalva2@utep.edu. Admission to the Centennial Museum and "Arts on Campus" walking tour is free.