For just 24 hours a most unlikely venue—an underused transit canopy  close to the El Paso/Juarez border—was transformed into a glitzy, avant garde party space this past fall for the Beaux Arts Party, an annual costume ball sponsored by Texas Tech University College of Architecture.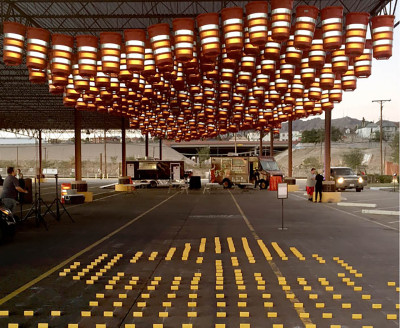 The substantial project, dubbed Flash Installation, was headed by TTU professors and co-founders of the Missouri-based architecture and design collaborative AGENCY, Ersela Kripa and Stephen Mueller and executed by TTU students. The project repurposed hundreds of standard roadway barrier barrels to create a suspended, reflective cloud beneath the steel canopy.  "The installation effectively humanizes the expansive infrastructure, signaling new uses for a one-night event and future explorations of life under the canopy," according to Kripa. "The barrel cloud creates a visual and acoustic ceiling for a dance floor and food trucks, mitigating the human scale of inhabitation with the infrastructural scale of the canopy space and repurposed objects."
The installation was radically short-lived, with all construction and de-installation taking place in a 24-hour timeframe. The barrels were dismounted and returned to the barrier supplier the morning after the event. They are now back in commission as roadway barriers city-wide.
AGENCY recognized that the barrels, which are readily available for temporary rental at minimal cost, would provide the ideal 'found material' for transforming the superscaled space. The barrels themselves are extremely light and easily manipulated into a variety of positions. "They are also highly volumetric, providing minimal structural impact on the existing canopy while maximizing the visual presence. Multiplied in 16 rows and 16 columns, the barrels define their own topography, echoing the lines of the distant mountains. The new suspended ceiling defines zones of intensity and intimacy below the superstructure," said Mueller.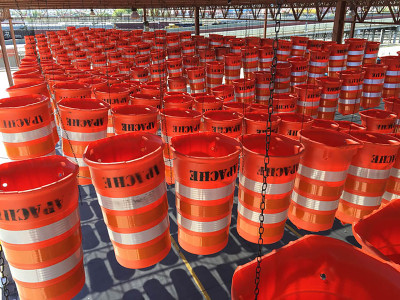 The barrels also come ready-made with a large surface area of bichromatic reflective tape, which AGENCY used to activate the installation visually. The barrel cloud took on new life, creating atmospheric lighting effects as it interacted with dappled sunlight, passing headlights, event lighting and flash photography.
To complement the aerial installation, a secondary element was installed on the parking lot surface itself. Composed of 300 flexible roadway reflectors, the ground pattern is calibrated to form an anamorphic image. When viewed from a particular angle, the seemingly randomly placed reflectors are recomposed as pixels of a recognizable image.
Proceeds from event sales and donations benefited TTU School of Architecture's chapter of the American Institute of Architectural Students. The project seeks to open dialogue with the city and the school to imagine new uses for the underutilized canopy space.