Local artist Rhonda Dore´has garnered international attention for her abstract acrylic artwork. Dore´'s latest collection, Sighs Too Deep, currently on display at The Art Avenue,takes a turn from her usual style–recognized for her ability to collage scraps of paper into colorful acrylic designs–taking on a softer, lighter, dreamier tone. Sighs Too Deep premiered at The Art Avenue on Thursday, May 25.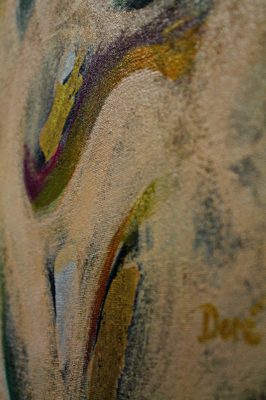 "This series [Sighs Too Deep] is a double challenge for myself," Dore´said. "Usually I work in saturated color. But I thought, what if I make it quieter?"

Acrylic paint dries rapidly, especially in the southwest desert, becoming a hard, plastic-like substance. The artist has to work quickly.
"But I wanted [Sighs Too Deep] to look soft," Dore´said. "How I can make these paintings look contemplative and quiet?"
Throughout the entirety of the Sighs Too Deep collection, the brush strokes appear wispy, with a lighter color range compared to previous work. 
"I wanted to see if I could make it whisper," Dore´said. "I think I am getting there. [The paintings] have a very different feel [than past series], like veils of smoke, or waves of incense in church."
"The paintings speak to me," said Lynne DuMond, a viewer at the preview of the Sighs Too Deep collection. "To me, the paintings are full of faces, animals, and people. [Dore´'s] artwork speaks and appeals to everyone. That's why I love Dore´."

Dore´explains her inspiration for Sighs Too Deep centers around an indescribable feeling.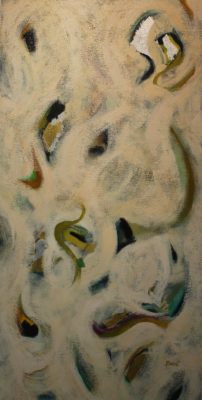 "We have all been enveloped by [the feeling] at one point or another," Dore´ said. "The usual words are 'lost in your work' or 'unaware of time.' These paintings are evidence I have been in that state."
Through soul-searching and prayer, Dore´named the collection on Romans 8:26. The biblical passage by Saint Paul says, "…for we do not know how to pray as we ought, but the Spirit himself intercedes for us with sighs too deep for words."
"Making art is like prayer," Dore´says. "I try and I have help to take it the rest of the way."

Art may be a natural avenue of self-expression for Dore´now, but for many years she strove in a different direction.
"Art training was not the plan," Dore´said. "Becoming a doctor or lawyer was. Still, I admired visual artists so much though. I became convinced I wasn't capable of drawing or painting and settled for admiring those who did."
Dore´graduated from The University of Texas at El Paso (UTEP) with a degree in mass communications with an advertising specialty. She became the Vice President and Group Creative Director at Sanders/Wingo Advertising in El Paso, TX. It wasn't until 2001 that Dore´'s draw towards the arts began to surface.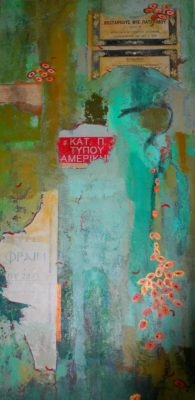 After taking a painting class at UTEP with a friend, her world took an unexpected turn. For a painting exercise, students were commissioned to paint a flip-flop. "It looked like the particular flip-flop!" said Dore´with a laugh. "I was astonished beyond description. A world fell open. I leaped in."

Since then, Dore´has not looked back. Her work has received critical acclaim. Most noteably, Naxos, a Greek-inspired painting, was chosen for Acrylic Works 4, a survey of noteworthycontemporary acrylic paintings chosen from artists worldwide.

"We are only human," Dore´says. "We can only get so far. I believe if we ask, God helps us with work like making art. The Spirit himself intercedes for us [through artwork] with sighs too deep for words."
Dore´'s latest collection is on sale and viewable in store and online. Follow our Facebook and Instagram to stay updated!