Dr. Robert Alexander González builds up El Paso's architecture program, brick by brick
By Oscar Garza 
Images courtesy of Texas Tech College of Architecture
There is only one architecture program in the United States located in an active train station, and we've got it.
Texas Tech University's College of Architecture relocated last summer to a new campus at the Union Depot—right in the heart of El Paso's historic Downtown. Dr. Robert Alexander González, director of the school's architecture program since 2011, hopes his school can present a fresh and innovative architectural perspective and push El Paso into a more contemporary architectural sensibility.
"We have worked very hard to move the College of Architecture downtown to make it accessible to the community," said González, who is also an associate professor at the school.
He is the author of Designing Pan-America: U.S. Architectural Visions for the Western Hemisphere and the founding editor of the academic journal AULA:Architecture and Urbanism in Las Américas.
One of the reasons for the move Downtown is to let the community know that El Paso has an educational authority with unlimited resource in the realm of architecture right in the heart of the city.
Having taught at the University of California at Berkeley, Tulane University, and Arizona State University, González's vision for the school is to grow its academic offerings with new degree programs. The school functions as a satellite location for the main campus in Lubbock, Texas, and offers a Bachelor of Science in Architecture, but it is already recognized by Lubbock as its own unique campus right on the U.S.-Mexico border.
"We're about to initiate a new historic preservation program in the fall 2014, and we're hiring new faculty and a director for the preservation program. We're expanding the choices that students have to study, and we're hoping to develop degree programs in Landscape Architecture, Construction Management, and Interior Design," González said. "We will also be offering certificate programs in Historic Preservation and Digital Media that non-traditional students can pursue."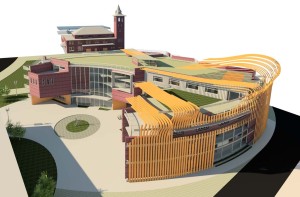 Morris Brown, an instructor at the college, said González has done a lot for the school's rise over the past three years, "With his relationship with the City of El Paso and his communication skills, the city recognizes that we are here, and he is absolutely perfect for this job. He has impacted our relationship with the community."
With larger program offerings, the College of Architecture will be able to attract a wider demographic of students. "We're hoping to bring in more students to Downtown and expand our program to include students from Juarez's Universidad Autonoma de Ciudad Juarez and UTEP. We'd like to create a multi-institution campus where we can concentrate on new technologies, preservation and material innovations," González said.
One of the main ideas that González trusts the school will channel into El Paso is a better balance between the preservation of historic structures and the addition of contemporary, state-of-the-art architecture in the city.
"I would like to help turn our attention to a better sense of preservation ethics in the city; I think the city has not been very good at taking care of its old buildings. And I don't think that the city has really had an opportunity to explore the richness of contemporary architecture," González said. "Sophisticated progress takes into account the use of historic structures and new technologies and space-making. Destroying buildings for speculative development or to create blank, open space is like throwing your money away. The city is losing its cultural capital faster than it is building upon its resources," he said.
He strongly believes that the lack of contemporary architecture in El Paso is one of the things preventing the city from achieving weight in the world of architecture and tourism, and this means that El Paso is far behind in this arena. He hopes that with the aid of the college, the city will develop contemporary architecture that is regionally sensitive and specific to El Paso, rather than reliant on the importation of random styles—architecture that "is about the city and region" is what is needed, González said.
"We lack architecture that is innovative and that introduces the latest material technologies. We have only one building in town designed by an internationally recognized, award-winning, contemporary architect—the federal courthouse—and that building was not even completed to its intended standard. El Paso is very much behind in any kind of progressive trajectory in architecture. Sadly, it can only rely on its vulnerable historical architecture to claim any kind of importance or relevance in the world of architecture," González said. The one local building that merits recognition the world over is the Union Depot, where the college is located. It was designed by one of the nation's most important and seminal architects, Daniel Hudson Burnham."
While the school is not directly involved in city projects, its work can serve as a "catalysts for projects," said Brown, "We work on key projects every semester…and if we want to and are able to, [if] city politicians are interested in listening, we can show them our ideas and concepts."
With the Texas Tech College of Architecture growing and becoming a known entity in the city, González continues to find ways to further involve the public in the school's endeavors. "We have created a College of Architecture Library in the El Paso Museum of Art," said González,  "which is a major contribution because it is a specialized collection for everyone to use. The college also contributes with our Lecture Series—we are currently planning our fourth series, "Prized Places," which will be our best series to date."
The last lecture series (another collaboration with the El Paso Museum of Art) was entitled "City of Choice," referencing El Paso's anticipated growth in city status. Free to the public, the college invites top scholars and architects to discuss issues like architectural competitions, portable architecture, green building, and a topic close to González' heart, balancing a city's landscape with a mix of modern ideas and historically preserved structures. González is excited to report that two of the "superstar" architects he invited are currently working on projects with two local companies—a direct result of the college's efforts.
As the school creates opportunities for the public to learn more about how historical preservation and great contemporary architecture can co-exist, he anticipates that in time the city will strike a better balance of both ideals.
The Union Depot campus will undergo renovations at the end of the summer, in preparation for Texas Tech's expanded presence in the building. Included in the plans are a new gallery, a technology center, and an exhibition space for the local community to enjoy and use. Brown said the move to Downtown couldn't be more perfect for the program, "It is right in the heart of all the activity, where we need to be a part of this future part of El Paso. And being in this historic train station, who would've thought we'd be the only architecture school in an active train station in the entire United States? It's pretty special for us right here."  Now with a number of architecture firms moving close to the Union Depot, González hopes the city will soon see the emergence of a Design and Technology District.