El Paso's latest bar and restaurant to open on the Westside came onto the radar with a unique name and a list of specialty food items. It's designed to pay homage to the white- and blue-collar workers, celebrating the end of a hard day's work and partaking in insightful conversations. BarMen recently opened its doors at 4130 N. Mesa and its owner says the name to his place has two stories: one for its clients, and one a reflection of his family's work history.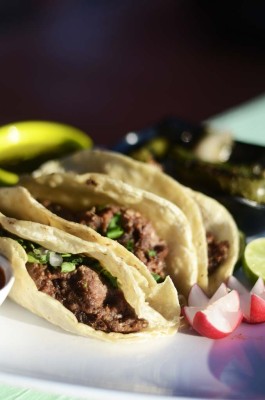 "The clients we see are similar to the Al Bundy concept of the one guy that wishes he would have gone 'Pro' and constantly reminds us of it," said owner Fresco Ramos. "We have a Casanova who can always pick up any girl with any line. We have the men that go to the bar to get attention but when they get it, they get sadder. In essence these are the men at bars, the bar men. There are various interpretations of what a bar man can be but they all start out with a bar, a man and a story."
We see bars come and go along Mesa—what makes your establishment so unique to El Paso?
With so many bars coming and going, no one has really focused on developing a unique product they can say its their own. Some say they make signature drinks and craft beer, but when it goes back to what good food can be they go back to the basic bar food.
So then it's safe to say BarMen is not a wing and burger joint?
No. We will have those available later, but my signature relies on my family tradition on making tacos and how I don't re-invent it, but introduce it how real Mexican flavor should be.
I have lived here for more than a decade and tasted my fair share of Mexican food, what is your secret to success?
Not marinating things but actually finding the taste of the meat itself. There are some dishes that are marinated but our steak tacos are not because our meat packs so many flavors. It's the natural flavor of the meat—same thing with our tripita. True quality.
So you're telling me you don't use any spices?
Only selective plates, like al pastor comes marinated but as far as the steak, there are no seasonings or marinating, just the meat itself.
How do you choose the right meat to ensure you have that special flavor you are describing?
It's all in the temperature. You have to be willing to wake up at 5:00 in the morning and find the right cuts of meat before anyone else gets them. You need to be able to freeze it at the right temp so that none of the blood leaves the meat, everything stays packed. The longer you leave it at room temperature all the blood leaves the meat and that make it dry and less flavorful. When you marinate a steak you are swapping the blood for marinade.
Obviously then you are picky when it comes to choosing your meat. Do you purchase from a regional vendor?
I go local, Myrtle Meat Market in Downtown El Paso.
Isn't that a locally owned meat market?
Yes, exactly and that's why you want to go local and establish a good relationship with your butcher. If you go somewhere else—bigger supermarket chains—you typically won't have that option. When you purchase from a local butcher, you can tell him exactly what piece you want. I don't get anything I don't want.
Can you give our readers insider information to ensure we are purchasing the optimal choice meat?
It's going to sound weird that the fresh is the best—everybody's definition of fresh means that it hasn't been frozen. I suggest get the frozen one, not the one that is in the counter. Whenever you get a certain type of meat, it is transported from somewhere, so it's frozen before it leaves, then it has travel time.
Let's say you get a steak from your corporate supermarket and it's nice and thick and it most likely has food coloring, which appeals to consumer, but how long has that product been there? Then how long is it going to take me to get to my house and cook it?
You have to take all of this into consideration.
You don't ever want to grill a frozen steak, so what is your method to preserve the juices?
You have to prepare it. Concentrate on going back and forth in [the] freezer, slowly taking the temperature higher, from the freezer to the refrigerator—it's a four part process. You don't want to put it in the microwave and hit defrost because all the blood is lost on the plate and it's not in the steak.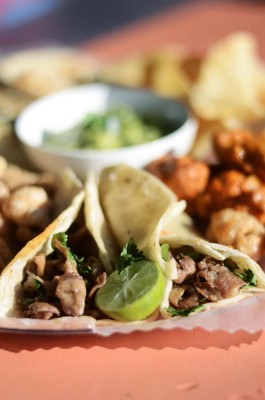 Tell me some other ways your food is superior to other restaurants.
Tortillas, we make them fresh ourselves on a daily basis. Everyone that comes in likes them and appreciates the flavor and freshness.
We have a strong rule at BarMen. We don't ask our customers how the food was because I feel that if you go and ask them, they are forced to tell you that it's good. If they tell you it's amazing without asking. That's better.
There is a taco joint on every corner in El Paso—what are you hoping people experience that they are not already receiving elsewhere?
I guess there are a lot of taco joints but they are working on a percentage and volume. They are trying to give a low price. I am trying to get you really high quality at a low price. We want to beat the definition of what a taco could be. You can walk in here at 1 a.m. and get a quesadilla or a taco and a beer and sit next to someone ordering a martini.
Tell me about the food truck that appears sporadically in front of BarMen
Our food truck was our greeting card to the Westside community. Being a bar, we didn't want to just sell you drinks and people perceive it's just bar food. Our food can compete toe to toe with others. In the mornings, we wanted to present our food, without any alcohol or distraction and let our food stand on its own. We don't have fancy plates or dinner wear. We did everything very rugged with foil because we wanted people to judge our food. We tripled our food business with the food truck within a month.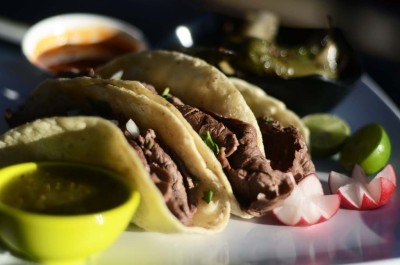 This is a business based on recipes from your upbringing?
Yes. I am from El Paso, but our food menu comes from my heritage in the southern part of Mexico, Leon Guanajuato GTO. The concept was conceived in 1981 with my family.
In 1993 my family had our first food truck. My dad would come in from his day job and then jump in the food truck and not come home until 1:00 or 2:00 in the morning. I worked for my family at that time—I was 12 years old. Some people had to make their beds every day, I made tacos with my dad.
I understand your parents are involved in BarMen?
Yes, both my parents have been helping me out. They advise me with cooking and recipes as well as administration. My dad has been doing most of the cooking and my mother has been doing the salsa and administration duties.
I noticed your menu lists Veggie Options.
had to fight my dad for that one. He is the traditional side of this venue. I hear my dad talk, "When I say these tacos are the best, people will come for my steaks." I had to tell him that the consumer is demanding other things, that's when I say traditional Mexican meets modern cuisine.