By Lisa Y. Garibay
UTEP News Service
Two UTEP artists-in-residence were giving students first-hand career advice while providing the local community with brand-new works.
Short-term resident artist Trawick Bouscaren is temporarily in El Paso from Buffalo, N.Y. Although his tenure is short—lasting only the fall 2014 semester—he is working hard to leave a bounty of creativity in his wake after he returns home in December.
While in the process of completing his Ph.D. from the Department of Media Study at SUNY Buffalo, Bouscaren is spending his UTEP residency teaching two classes, one in Professional Practices the other covering Aesthetics and Critical Theory.
"If you were in Buffalo last winter, you would be very happy to take a job in El Paso—it was the worst winter up there in 40 years at least! I'm very happy to soak up a little sunshine. I also love border towns," Bouscaren said, pointing out that Buffalo is one, too, and that he believes the unique cultures of border locales result in intriguing art.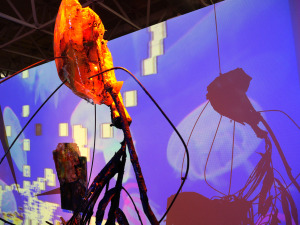 "I was excited to work in an area like this which is nationally marginalized in a sense, much like Buffalo is, but which has its own local history and local flavor which is both unique to the United States and to Mexico. This place has formed its own cultural sphere, which is in some sense independent of the two countries," he explained.
Another parallel Bouscaren finds between his home and El Paso is the revitalization of both cities' downtown districts. Each hit a low point after industry moved to the non-U.S. side of the border, but recently both downtowns have seen a period of revamping that speaks to cultural and economic resurgence. In 2013, Bouscaren worked to bring in a group of artists from a variety of cities throughout the Northeast and the Canadian border to produce installations and performances in downtown Buffalo.
"The city had never seen anything quite like that before. While I thought the project would be more about the installations and performances, it actually ended up being more about the relationship between the artists, their work and the people who were stunned that it was there," he said.
With the goal of bringing a similar shake-up to El Paso's downtown area, Bouscaren was gifted with use of a large studio space in the Borderlands Art Center on Myrtle Ave. where UTEP students have been assisting him in the creation of large-scale artworks.
A variety of Bouscaren's work, which focuses on found materials and exploration of borders, can be viewed on his website, www.tra-bouscaren.com. He has exhibited his creations worldwide and has several international artist residencies to his credit.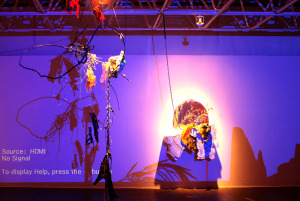 "[He] has been doing some really cool stuff here with our students and with groups in the El Paso community," said UTEP Department of Art Chair Vincent Burke, who mentioned that the artist also conducted a collaborative workshop with local children and the El Paso Opera.
In addition, Bouscaren presented a video editing/mash-up workshop to students and faculty in the UTEP Computer Science Department and is working on a collaborative art/computer science project with individuals from that area of campus.
In another campus-community collaboration, Bouscaren established a film series entitled Border Citing, which takes place each Wednesday at 6 p.m. and is free and open to the public. Screenings are held in UTEP's Geology Building and span films from classics like Hitchcock's Vertigo, Kubrick's Dr. Strangelove and Ridley Scott's Blade Runner to documentaries A Pervert's Guide to Cinema and Paris Is Burning. The series hopes to shed light upon a variety of borders and limitations that we put upon ourselves, whether political or personal.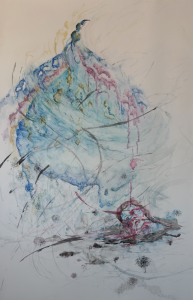 Covering the entirety of the 2014-15 academic year, Roya Mansourkhani's appointment has her occupying the artist-in-residence studio inside UTEP's Fox Fine Arts Center.
The painter was born in Iran when it was still a secular kingdom that then fell to revolution promising democracy. Instead, a regime of tyranny took hold, abolishing women's rights even while a large number demanded substantiation as to how these oppressive policies were true to the teachings of Islam. Mansourkhani's work has addressed this subject since she began devoting herself to art, where she found salvation and comfort. After immigrating to the U.S. with her family in 2003, she obtained her master's degree in drawing and painting at UTEP.
"My goal was to portray Iran's beauty and the difference between Iranian people and their government in Iran," she explains. Her attempts at reconciling such differences hold resonance with her students here on the border who are often working to express border perceptions versus realities through their own art.
After graduating from UTEP, Mansourkhani began teaching at the university while also working towards her terminal degree at NMSU, becoming the first student to do so in only two-and-a-half years. Today, she teaches courses while maintaining open office hours where students can pop in to discuss technique, career logistics, professionalism, theory and more.
She is also working with a group of students towards an exhibition which will be on display early next year; it focuses on Western perceptions of Iranian women and a visual discussion between the teacher and student where each changes the other's artwork to come to common ground. A solo exhibition of new work by Mansourkhani will open next spring on the UTEP campus.
"My works focus on Iranian women, women who live in a world where independent thinking is sin and punishable, in a world where all identity must be covered," she said. "This is what I am working to express during my residency."