Nature-inspired artists showcase their collaborative works at a swanky Austin gallery
by Kimberly Rene' Vanecek
Photographs courtesy of the artists
Flatbed Press and Gallery celebrate 25 years and two El Paso artists are along for the ride.
Painter Suzi Davidoff and jewelry designer Rachelle Thiewes were asked to help commemorate the Austin gallery's quarter century in business with their exhibit Common Language, a collaborative effort spanning thousands of miles and incorporating land installations as well as individual works at the prominent print studio.
The project sent Davidoff and Thiewes traveling from El Paso to Finland's Fiskars Village in 2009, an area surrounded by overgrown woods and rivers, which served as the initial backdrop for Common Language. Incorporating nature and minimalistic objects these two artists stamped their mark throughout the woods alongside Fiskars River—later continuing the project in the deserts around El Paso.
Thiewes say environment awareness is a central theme to the endeavor. "In Finland we did a couple projects where we wrapped trees with flagging tape which is commonly used to mark trees that will be cut down. Foresting is a major part of Fiskars and the Finnish economy, trees grow for decades, build a beautiful forest and then are cut and logged out, leaving the forest bare," said Thiewes.
Armed with gold leaf, a vial of cochineal, and color flagging tape the artists embarked on their mission to complete their project during their two-month residency. Thiewes said along their journey they acquired other elements to incorporate in their installations, "On the dock in Finland we used clay that was dug up for us from the Pohja fjords, and in El Paso we used shale from the mountains around the Rio Grande. Other materials were silver leaf, dragees (silver coated sprinkles), fishing bobs, fishing weights covered in gold were used for the Riisla Aquaduct and bullets. We purposefully limited our materials."
Davidoff said they tracked 500 kilometers throughout the forests during the Fiskar installation and were surprised to see that some of their pieces vanished shortly after they were put in place. "Some of our installations in Finland, like the gold leaf fishing bobs in Riisla aqueduct and the small dragee covered stone, disappeared very quickly," said Davidoff. The areas they chose to install their projects were often aligned with hiking trails, and both artists assume someone walking along the path may have removed the art not realizing it was an installation. Davidoff said some of the installations did need to come down. "In Finland we were careful to remove the flagging tape from trees, as the same material was often used by the foresters to mark trees ready to be cut," said Davidoff.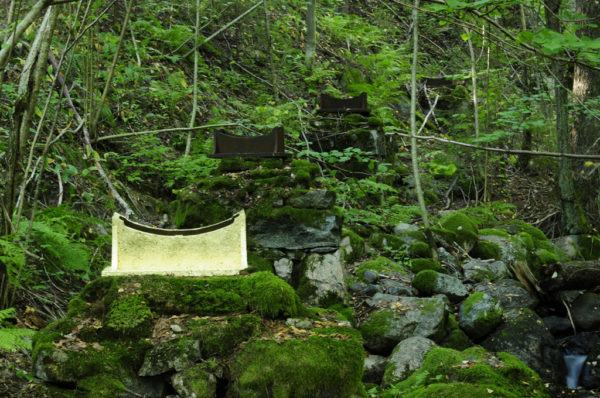 Upon returning to El Paso the duo continued their efforts in creating a favorable and rich environment as was documented in Finland. "We were careful not to contrast the beauty of the verdant forest with the desolation, even the perceived ugliness, of the desert. Both of us find extraordinary beauty in the desert so our goal became to create works that were every bit as rich and full as in the forests around Fiskars," said Davidoff in an interview with Dan Lambert, author of Common Language: Punctuating the Landscape.
Davidoff and Thiewes set out to the Chihuahuan desert shared between New Mexico and Texas frequented by the ear-piercing sounds of trains screeching on miles of rails twisting through the canyon. This is where they were tasked with trying to adhere flagging tape to the rails in order to document their works before a train reared by and destroyed their creation. "The trains would come through fast from both directions at unpredictable intervals. As soon as the rails would start to vibrate, we'd collect our gear and climb up the slope. The crush of air accompanying the train as it rolled over our worksite would pull sections of tape off in its wake," said Davidoff.
After completing several installations the two artists stumbled upon quite a surprise in the desert. "Walking in the desert you find structures built out in the middle of nowhere that appear to be lost or of no conceivable use. The creaky wooden walkway supported by a spindly steel frame was one of them," said Thiewes. The artist recreated the oval footprints that were documented in Finland on the dock in Kivijarvi, this time using ancient shale from the Rio Grande to create the markings.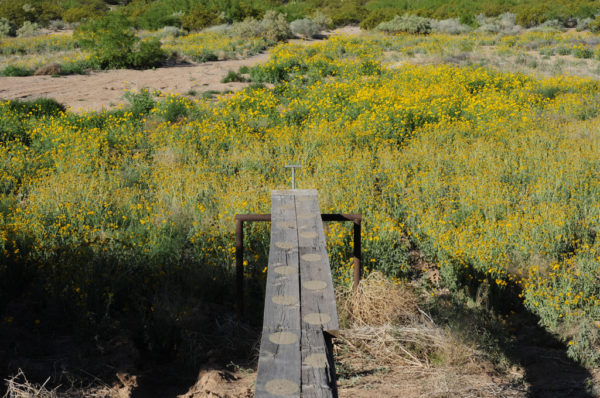 The duo completed their project in 2011 and have continued collaborating on works through their group Razi Project. Davidoff and Thiewes say they're excited to be a part of an art community that is so well documented. "Flatbed is a very well respected print studio in the U.S. so it is an honor that they have invited us to show this project as well as our individual works," noted Thiewes. Common Language images were transferred onto aluminum accompanied by a twin-screen video projection for the event, which runs through December 31, 2016. 
Common Language
Flatbed Press & Gallery
2832 East MLK Blvd.
Austin, Texas
512.477.9328
Open Tuesday-Friday 10-5 pm; Saturday 12-5 pm.