Las Artistas Fine Arts & Crafts Show
by Carol Fuscaro
Photos courtesy of Las Artistas
With more than 90 juried artists and craftspeople, the annual Las Artistas Art & Fine Craft Show represents some of the best fine art and craft in El Paso and beyond. Visitors can see and shop for paintings, prints, ceramics, glass, jewelry, metal, leather, wood, wearable artand more.  All of the work in this show has met Las Artistas' strict standards for originality, creative vision, technique, and craftsmanship.  With a wide variety of quality, one-of-a-kind art and functional craft, holiday shopping doesn't get any better than this.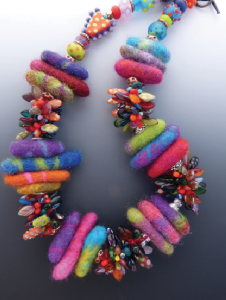 The Las Artistas Art and Fine Craft show is all about cultivating an appreciation for the arts and connecting people with art.  At the show, visitors can speak with the participating artists to hear their stories and learn about their visions and techniques. Participants include locally respected artists and craftspeople from El Paso, Southern New Mexico, and other parts of the country, as well as nationally renowned artists such as painters Amado Peña and Aleksander and Lyuba Titovets(painted former First Lady Laura Bush's portrait)and printmaker Daryl Howard. The 2014 show features new interactive activities that provide visitors with an inside view of the arts:  daily woodturning, blacksmithing, and painting demonstrations so visitors can see and learn what goes into making fine craft and art; an outdoor space for exploring large-scale sculptures and garden ornaments; and a children's activities tent with hands-on projects to encourage budding artists.  The relaxed, friendly vibe of the show is complemented by live music and a variety of gourmet food options by Food Truck Circus.  The admission price is $5 and free for children under 18, and parking at the event center is free.
Emerging artists booth a popular draw
Las Artistas is continuing its 20+ year tradition of featuring the work of emerging artists – students from the University of Texas El Paso (UTEP) Metals and Ceramics program.  About 30 students have an opportunity to participate in this "learning classroom" and gain real-world experience by selling their art and craft and learning how to interact with the public.  In preparation for the show, the students are encouraged to test their ideas and create jewelry and metal and ceramic sculpture and pieces that are "outside the box."  "The show is a great place for students to make connections with working artists and craftspeople. Las Artistas recognizes that these are the artists of the future and the show participants take on a mentorship role and spend time with the students," said UTEP Art Department Head Vincent Burke. It is a win-win for all parties:  the students sell their work and gain confidence; and the UTEP booth is a draw for the show – visitors love seeing what the students are up to.
Las Artistas has supported UTEP's Metals and Ceramics students. The UTEP program uses these stipends to provide educational opportunities, such as bringing in visiting artists and sending students to workshops and conferences. Supporting arts education is a key part of Las Artistas' mission and the organization also donates to other art programs in the area.
Long-standing history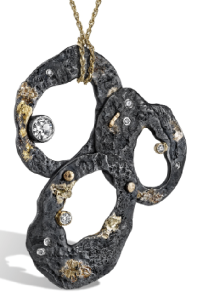 Las Artistas was founded in 1970 by a group of female artists from EL Paso, including Charlotte Nobles, Margie Melby, Jean McGee, Connie Dillman, Cheryl Derrick, Ferne Schrier, Tita Sterling, Tita Lyle, and others. They organized a backyard show, which was primarily attended by family and friends, to sell their work and began a grassroots effort to promote themselves. Over the years, the backyard show turned into a larger one-day show with more participants.  As the show grew in popularity and size, it was held in venues such as, The El Paso Tennis Club, Sunland Park Race Track, and the Union Depot. After exceeding capacity at the Union Depot, the show moved to the First Presbyterian Church Event Center and expanded to a two-day event. In recent years, Las Artistas adopted a structured jury and standards system to expand the quality and geographical range of its artist pool and attract highly-accomplished and nationally-recognized artists, and in 2013, began working with a marketing agency. Increased marketing efforts have helped increase attendance and gate revenue, enabling Las Artistas to fulfill its mission of providing El Paso with the best in arts and fine craft and to support emerging artists and local arts programs.
Come support local artists and experience the fascinating world of fine art and craft at the Las Artistas Art & Fine Crafts Show on November 22 & 23, 2014 at First Presbyterian Church Event Center on 1340 Murchison Drive. For details,
visit www.lasartistas.org.