By Kimberly Rene' Vanecek
Photographs by Victoria G. Molinar
Design by Julia Zamponi
A technical craftician and an artisan—Alejandro Lomeli uses his hands in various trades in order to make a living.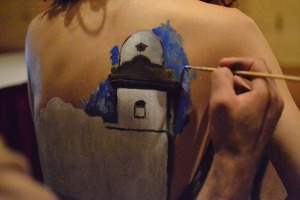 The Art Avenue had the opportunity to speak with Lomeli where we learned how one local historian had a big impact on him as a small child in elementary school and how that impression can be seen in his artwork.
Originally from Monterey, California, TAA learned that this father of two children is a sheet metal installer by day yet artist in life. He reveals how his traits range from the talent his hands have when dipping a paint brush into acrylic and gently applying it onto a scantily clothed female form and canvas' to the extreme opposite of his 12 year rugged yet technical craft as a sheet metal worker.
Painting on a canvas appears to be easier than painting on a human form with different shapes and curves of various sizes, what prompted you to try your hand at live art?
As an artist, I always want to push myself and not be so one dimensional so I accepted a challenge when a friend suggested I try live art.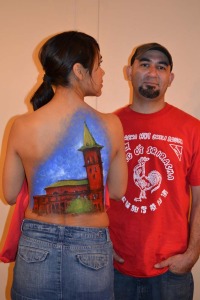 Iconic buildings in the Borderplex inspire each of your pieces in this issue. Can you explain why you chose that genre?
I've been painting historic El Paso themes. I was first introduced into local history when historian and book writer Leon Metz went to my elementary school to talk to us. I think historical buildings were something different and unexpected to paint on a model, so I went for it. I thought these particular images fit well on my body canvas.
Do you find it sensual when you take paint and a brush to a body rather than a canvas?
Yes I do, but those feelings go away as soon as I start painting and concentrating on the task at hand.
Are there any emotions knowing that what you paint on a body will soon be washed away or is that part of the "job"? 
It's just a job. I don't get attached to them. I'm good with the photographic evidence of my work.
Have you taken note to who is receptive to your work—your followers?
I've noticed people of all different ages and backgrounds interested in my historic El Paso work.
You work with your hands as an artist—but for a living you use them as a sheet metal worker/HVAC installer. Do you see that trade as an art in itself?
Not really—hanging commercial duct is a trade in itself. But I do want to incorporate sheet metal, wood, tile work and other materials into my work in the future. I don't want to be known as just a painter and I am looking to always push my artwork to the next level.
What is most perplexing within the art world?
It's most challenging to find the time to paint and be inspired after working nine hours in a physically demanding job and driving back home to El Paso from Las Cruces.
What is your opinion on the art scene in the region? 

I'm just really excited for El Paso's growing art scene. I feel very fortunate to have a small part in it and I look forward to continue creating and taking on bigger projects.
Connect with Alejandro Lomeli on Facebook at LomelliniArt