With a subtle smile, Margie* waited patiently for her watercolor palette and paintbrushes to arrive at her table. Moments before, she excitedly said yes when asked if she'd like to participate in another art session at SunRidge at Desert Springs, an assisted living community center located near the Franklin Mountains of El Paso.
I love it because it's very relaxing," she said about painting.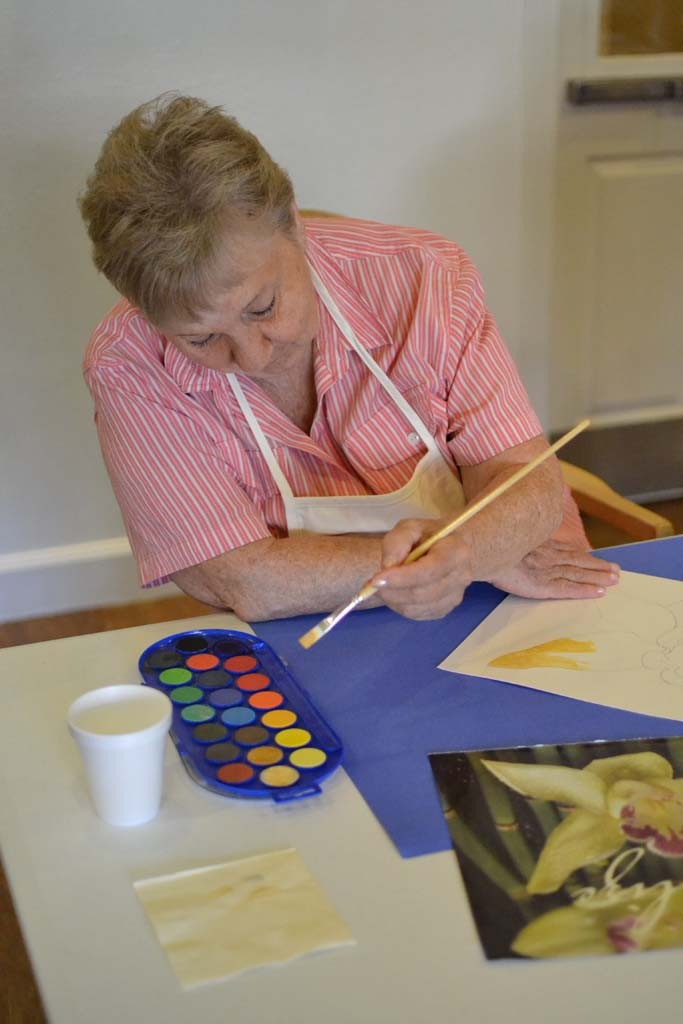 In a classroom of four residents and three instructors, she needed little assistance as she quietly painted an orchid from the page of a magazine. When asked if she wanted anything to drink or eat, she calmly and kindly declined the offer and went back to her piece. Art puts her in a state of concentration and ease, said Sales and Marketing Director Febe Leyva of the resident who usually anxiously chain-smokes and sips Diet Coke throughout the day.
These are the kind of responses that Leyva and her colleagues aim to achieve through the new art therapy program, Reflections. Inspired by the Alzheimer's Association program Memories in the Making, the sessions are meant to stimulate the creativity and self-expression of residents with Alzheimer's and other forms of dementia.
According to a 2014 report published by the Alzheimer's Association, 330,000 is the projected number of elderly ages 65 and up living with Alzheimer's in Texas. Over the past few years, more articles and studies emerge reporting the benefits art and music bring to elderly living with the disease. One of these findings from publications such as the Canadian Journal of Neurological Sciences claims that art helps patients recall memories they might otherwise not remember. Leyva said this proved to be true in the room of four students. Margie briefly talked about a Chihuahua she once had named Chula Baby while Diane*, sitting next to her, talked about her childhood cat, who she called "a little black fuzz ball."
The participants across from Diane and Margie hardly spoke, but they still found opportunities to smile as the caregivers and instructors helped them along their paintings of a bird and duck. Claudia*, who has gone through multiple stages of dementia, made much progress from where she was before, Leyva said.
I was so pleased to see her in the class today. Before, she was not open to talk to people, she was angry all the time, and now she is so much more at ease," Leyva said. "Even if they don't accomplish a lot, it's a lot for us. Even just for them to come and sit and stay focused for a few minutes, it's very meaningful."
In the beginning of class, Roy* needed a little guidance with his brush strokes, but by the end, he painted most of the work on his own, smiled often, and recalled his position as a former Navy Seal.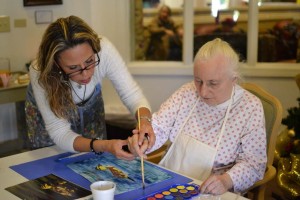 Veronica Lascurain, owner of Living Colors Art Academy, led the class by drawing out the images pulled from several magazines for the participants. The Reflections gallery they worked in displayed the work of previous students. Two of the paintings were professional ones some patients did before they had dementia.
Many of them were artists and right now, it's easier for them even if they don't remember because their soul remembers," Lascurain said.
Lascurain was sought out by Leyva after she witnessed the patience Lascurain demonstrated when she led a class of over 80 children as they painted the St. Francis Catholic Church for its 75th anniversary. The two have also led painting sessions at the SunRidge at Cielo Vista.
One gentleman was so proud of his painting that he said, 'You know what? I feel like a new Picasso!'" Leyva said with a wide smile.
After experiencing the effects art had on the participants, Leyva said she hopes to have the classes held in different facilities throughout the city, obtaining volunteers from places such as El Paso Community College and the Junior League of El Paso. She also intends to reach out to the University of Texas at El Paso to see if research students would be interested in conducting a local study on the effects of art on patients with dementia.
Not until you see it do you realize the magnitude art has on them," Leyva said. [themify_icon icon="fa-circle" icon_color="#ec008b" ]