Hollywood has its eye on Yvette Yates. In just a few short years, the El Paso native has worked to quietly resuscitate the supporting, stereotypical roles written for Latina actresses. She's gotten a shout-out from TheNew York Times for her standout role, "played with verve," in 2012's El Gringo, and her latest film, Bloodsucking Bastards garnered rave reviews at its premiere at Slamfest this January. But you most likely recognize Yates as the memorable Luz, the Chicana housekeeper in Paul Thomas Anderson's trippy film adaptation of the even trippier Thomas Pynchon novel Inherent Vice. Yates auditioned in-person with Anderson (director of Boogie Nights and There Will Be Blood) after just one cold read for the part of Luz.
The daughter of two teachers, Yates received her bachelor's in Psychological Science at UCLA before catching the acting bug. But it wasn't until after taking the MCAT that Yates got the courage to delve into film work. "It took me a few months to tell my parents," said Yates of the career switch. "They were very surprised but luckily supportive."
Yates sat down with The Art Avenue to talk about working with Joaquin Phoenix, developing her characters, and presenting at El Paso's own Plaza Classic Film Festival.
What was it like auditioning for Paul Thomas Anderson?
I think in the first 15 minutes he got to know who I was. He loved El Paso and he just got to ask me about my family, my upbringing, who I was—and it's like really getting to know who the person is—and then we went into the reading. It was just an experience on its own, I mean, [it] definitely will always be a highlight of my career. You do all this work and you get to work opposite such greats like him.
What was it like working under his direction? And working with such big names on set?
Everyone was so comfortable in what they do, I feel that there is no tension. We would approach [a scene] different ways, but there's so many different approaches to it [that] once you know his vision and how it translates, you have to keep together because it is such a puzzle. Working with Joaquin Phoenix was super chill. I was like 'oh my God is this what it's like?!' This is my biggest film to date, you know studio film, and I was like 'this is awesome.' I hit the lottery, I hit the jackpot, and it was just very welcoming.
How did you prepare for the role of Luz in Inherent Vice?
Reading the book I could definitely feel its tone. I knew she was Chicana, I knew it was during the late 60s, so there were just like a lot going on. She was Mexican-American living here, you know, what was her family life? So I kind of put all those different layers in my head and there is this independence to her and allowing herself to discover and feel these different vibes that are going on…and she doesn't feel excluded from it all just because she is Chicana.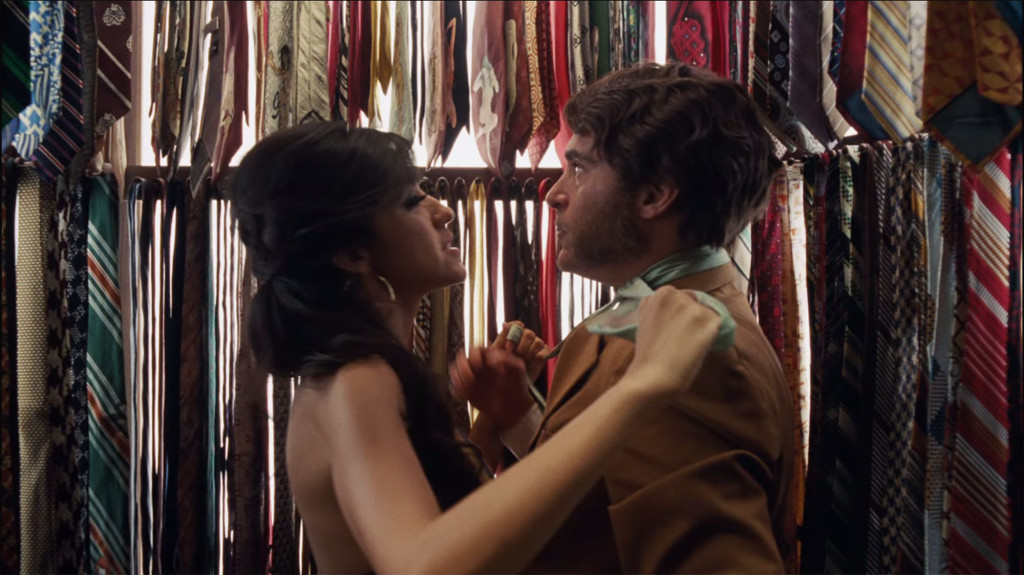 You describe your latest film, Bloodsucking Bastards, as "Office Space meets Shaun of the Dead." It just premiered at Slamfest this Jan.
When I read the script, I had to be a part of it because it was one of those where I was laughing as I was reading it, which is rare. I'm so happy with it and the reviews from Fangoria have been so positive. It's exciting when people really enjoy it.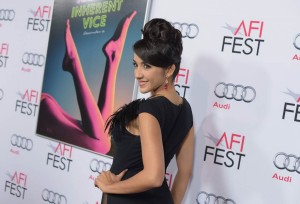 It wasn't until after you took the MCAT that you started to do production work on some films. How did you transition into acting?
I started doing shorts because I think that was the only ground where I could, without having all these credits, be different characters. And I did this short called Niña Quebrada (2008), which was an AFI thesis film, and that was really my first little project that I did and it just went really crazy through the festival circuit—getting all these nominations and awards, nominated for the Imagen Award, and that started helping me go to the next project.
You got to introduce your action flick In the Blood (2012) alongside producer Shaun Redick at last year's Plaza Classic. What was it like working on that film?
It was great. We shot in Puerto Rico so it was right around the holidays. Just to be in sort of paradise and working there, you just take a moment to yourself and say, 'wow I get to do this, I love it.' The cast was just amazing, Gina Carano who we've seen in Haywire, it was great working with her and talking out the scenes and then the rest of the cast like Danny Trejo, Luis Guzman, Stephen Lang—I mean they're such great actors surrounding everybody.
You must have been so proud to show off your work in your hometown. Can you speak to the growing art and film scene here in El Paso?
There's talent there and there are voices there that want to be heard. There's so much creativity that goes on, I mean, the art, the culture, the people—there's so much going on. We have the ability to show something to the world too.