By Kimberly Rene' Vanecek
It's about "strength, power and bravery" for Sara Macias's Warriors & Soldiers, featured at this year's El Paso Fashion Week held in October. Over the course of seven days the event is expected to draw thousands from the Boarderplex to view the latest styles from six designers, showcase the top local models and give back to local non-profit organizations that support children and the arts of El Paso and Juarez.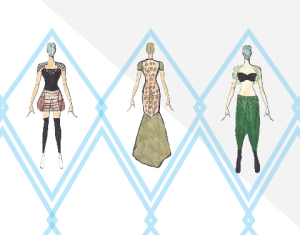 The Art Avenue had a moment to spend with Macias whose long-term goal is to one day mass produce her designs and make new jobs locally. She had this to say about her debut at EPFW, her new collection inclusive of dresses, skirts and pantswear and passing on the Mercedes-Benz of El Paso Fashion Week.
There are 6 designers contributing to El Paso Fashion Week, what are you hoping your designs reflect? I want them to reflect my vision on my concept of warriors and soldiers of past and current times—the strength, power, bravery and the anonymity of people who fight for their countries. Usually you hear of bravery but hardly ever see the face behind it.
What makes this collection unique for you? I will have 12 pieces in this collection and it will also include a few men's pieces, but mostly women's attire. All of the models will have their faces covered in a mask. I plan on using silks, suiting material and easy to wear textiles for comfort and functionality. There will be some fun stuff but mostly wearable pieces.
As a young designer, what does it feel like to be accepted into El Paso Fashion Week on your first try? Yes this was the first time I applied for the El Paso Fashion Week. I feel very honored to be accepted. I know what EPFW can do for my business and I'm very excited for what's to come.
You mentioned you switched from Mercedes-Benz of El Paso Fashion Week to EPFW. Can you explain to us why? I was given a concrete opportunity from EPFW and I made a choice based on my needs.
Do you think El Paso is open to local designers? I would hope El Paso is open to local designers. There are quite a few of us and we all deserve a chance. I would like to reach out further beyond El Paso, because one can't be successful in just one area. You need to always be thinking big.
How are you marketing yourself in the community? I use social media a lot to reach out to photographers, entertainment managers and potential customers that like my aesthetics. I constantly check castings on Model Mayhem, Craigslist and Facebook groups and apply anywhere to have a chance to show what I can do.
Macias's clothes can be purchased through etsy shop www.eclecticvisions.etsy.com or you can contact FB fanpage www.facebook.com/eclecticvisionsdesigns