'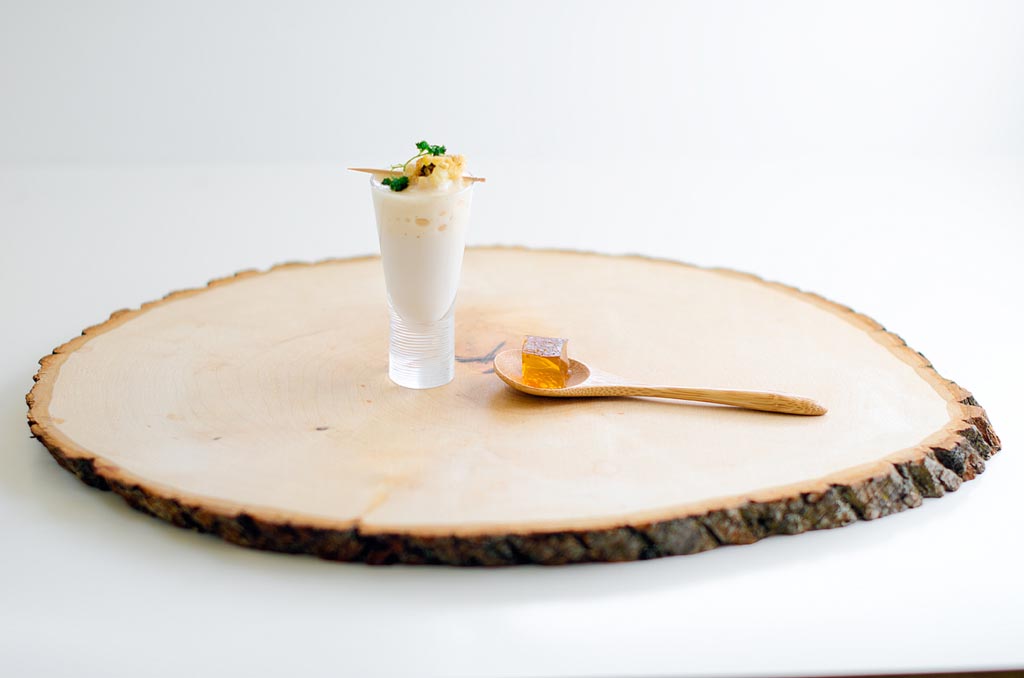 A dark explosion of Amedei Blanco de Criollo chocolate hits your lips and sparks along your palette. The sultry sounds of Evening Star by Cannons plays softly in the background as you take your next bite—the cool, smooth invitation of cream custard with maple flavor candy capped mushroom entices you, revealing an emotional innocence surging from within…an emotion you embrace.
Senses in Sucrose The Art of Emotions in Sweet Form, a culinary artistic book scheduled for release in February, takes unfathomably decadent desserts and transforms them onto 200 pages of photographic exchanges marrying pastries to emotions. The chef, author and photographer, El Paso born and internationally renowned celebrity chef of 19 years, Roberto Cortez created 12 uniquely captivating and intoxicating desserts based on 12 different complex emotions to publish his first book.  
"The book will be based on inspirational photos of either people in situations or whatever it is that is related to that emotion.  So people will experience that emotion and from that I have what I call an ingredient page—at that point I marry the food that is connected to it to that emotion.   So you will see this ingredient photo that is connecting both of them and then from there I will actually show them the dessert that I created that is that emotion.  There is text in the beginning and there is this little bar and it will have fragments…the little bar has like five different shades, five different colors and each one of those colors is specific to that emotion and all of the colors of everything in the desert," said Cortez.
Cortez created Symphonic Euphoria—one of the desserts in the book designed to play on at least three of our emotions as one relates to a song we remember from our childhood or impacted our lives to such an extent that it continues to pull on our emotional chords to this day, challenging our current state of mind.
It's [Symphonic Euphoria] connected to the symphony but the components of the symphony are many parts and that's why the eating process of this dish has many parts," said Cortez 
"I designed it so that it's chocolate based and there are different tools on this specific tray and plate and you taste the chocolate and you eat one of the elements—one of the elements is a Pinot Noir that is reduced by maple syrup wine and pomegranate seeds so that you just taste that, with a special spoon. That spoon was made by Jinhyun Jeon a female designer from South Korea, so when you release the spoon from your mouth, you're thinking, 'Oh my gosh, that's incredible.' So you have a bite of chocolate, and then you have the other ingredient, and you have all of the flavors and they never mix with each other. It's always like chocolate and taste that one, and chocolate and taste that one. So it's a symphonic process of eating."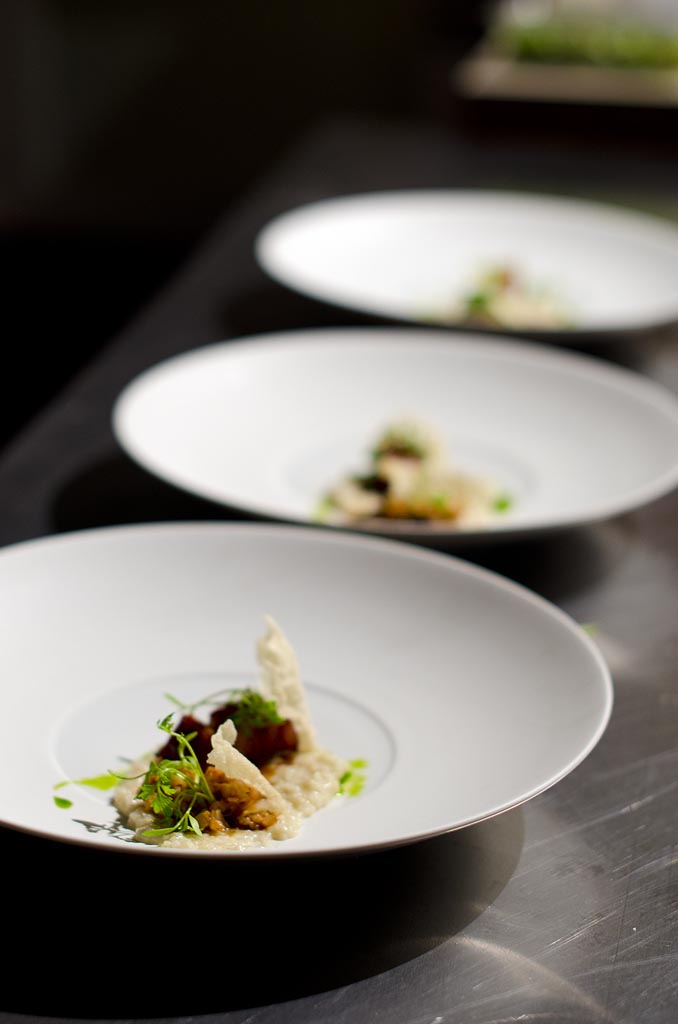 Senses in Sucrose: The Art of Emotions in Sweet Form was funded through Kickstarter in less than one month, with 60 backers pledging $9,910 to help bring the project to life. Depending on your level of donation, supporters could receive recipes from the book, an autographed copy, digital images, work with Chef Roberto Cortez for a day at an event, a personal cooking class or photography session, or even a private dinner for eight of your closet friends. Kitchen Arts & Letters, the famed New York City bookstore which carries an impressive collection of wine & culinary themed books, recently offered to carry Cortez's book.
The catalyst for the book sparked from a project in London where Cortez consorted with some of the best designers and artist from The Royal College of Art. "[It's] the best art college in the world. Everybody who graduates from the Royal College of Art has these companies, people and designers who want to work with them because you have to be bad ass to get in and you're super bad ass when you get out," said Cortez.
If bad ass means you are the premier chef to present in the Victoria and Albert Museum in London, then one could say Cortez is bad ass. The directors from the museum heard about the work his group had produced and asked the five creatives to install a dining experience.
Every element of the meal was thoroughly planned out—everything from the design of the spoons and plates to shaping the atmosphere and the feel of the furniture in the room. "This plate had the handle on it –the plate was angled every so slightly on the desk, it was very interactive and curious," said Cortez" Furniture designer Tomas Alonso  from Spain created the table and benches. "It was very modern with steel, wood and colored plastics. There was dimension and an aesthetic feel to the table and benches," said Cortez.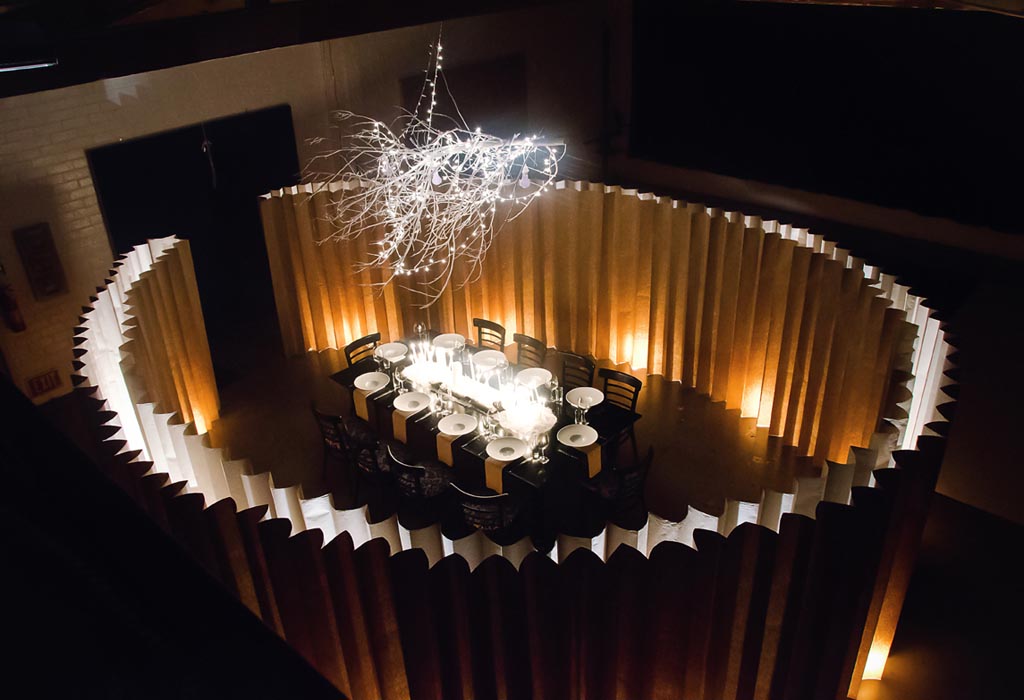 A lack of heating element in the exhibition room meant that the chef would be forced to serve a cold dessert. But Cortez insisted he must have a warm element to it. "When you have cold and hot at the same time it always creates dimension in your dining experience," said Cortez. He ended up creating a warm chestnut muscovado cake combined with cool elements.
Directors at the V&A invited 14 guests to the dessert experience, where they were first presented with a specially crafted ceramic egg.
The ceramic eggs have a special scent in it and it puts you in a zone to accompany and enhance the food you are about to eat…the designer made it to have a scent in there—warm rosemary. So [the diners] smell it and instantly that's a different part of eating, just by smelling it that changes your mood on what's to come next," said Cortez.
"The dessert was a Taiwanese tea handpicked—turned into a mouse with a liquid nose and it fit into a specially designed glass. You are able to take in the scent (more than just tasting it) with this glass and then I added rosemary oil on a plate and I made a rice ice cream infused with black truffles from France," said Cortez. "It was basically Japanese rice black truffle ice cream."
In order to maintain the momentum of creating the desserts he studied the psychology of colors and the emotions that are released when experiencing different colors. "I started studying consciously and sub-consciously our emotions that are connected to them, and the color of food—how it effects us and the flavor of food and how it effects us," said Cortez.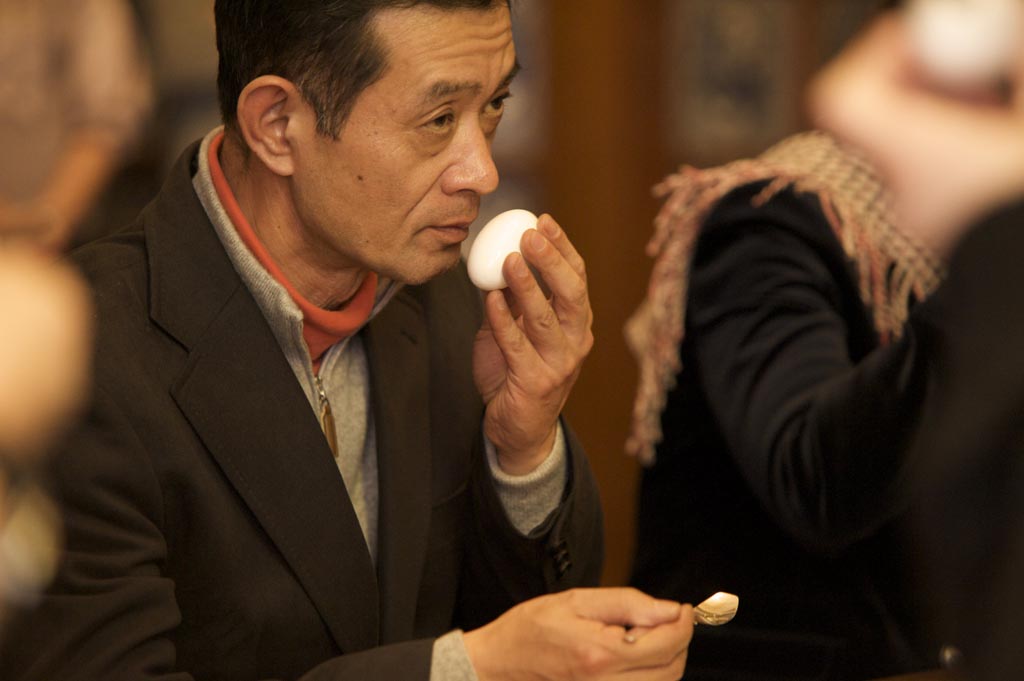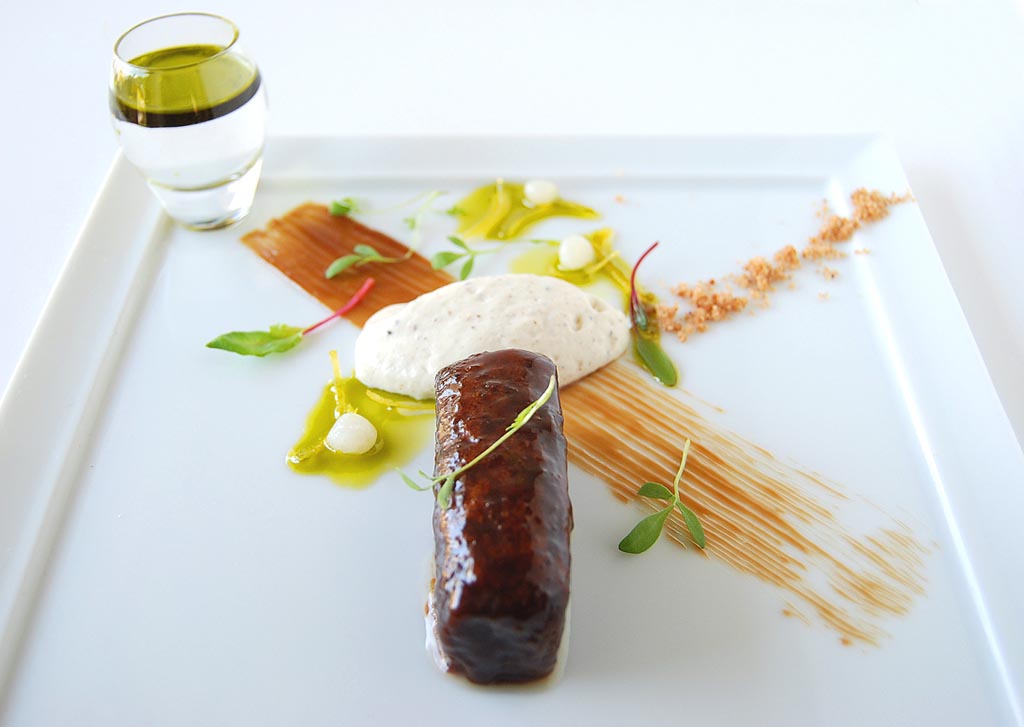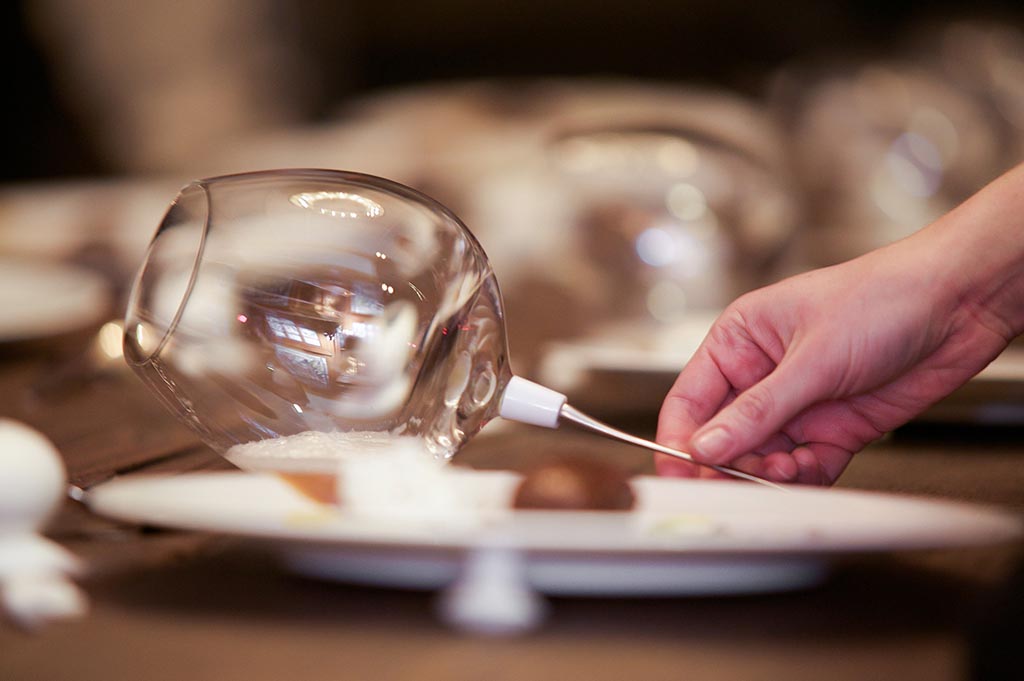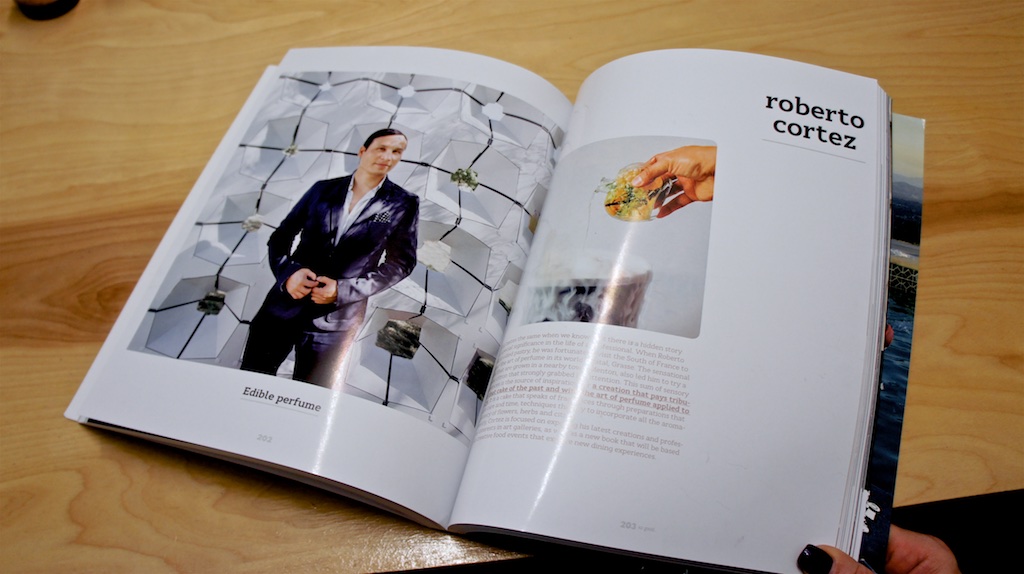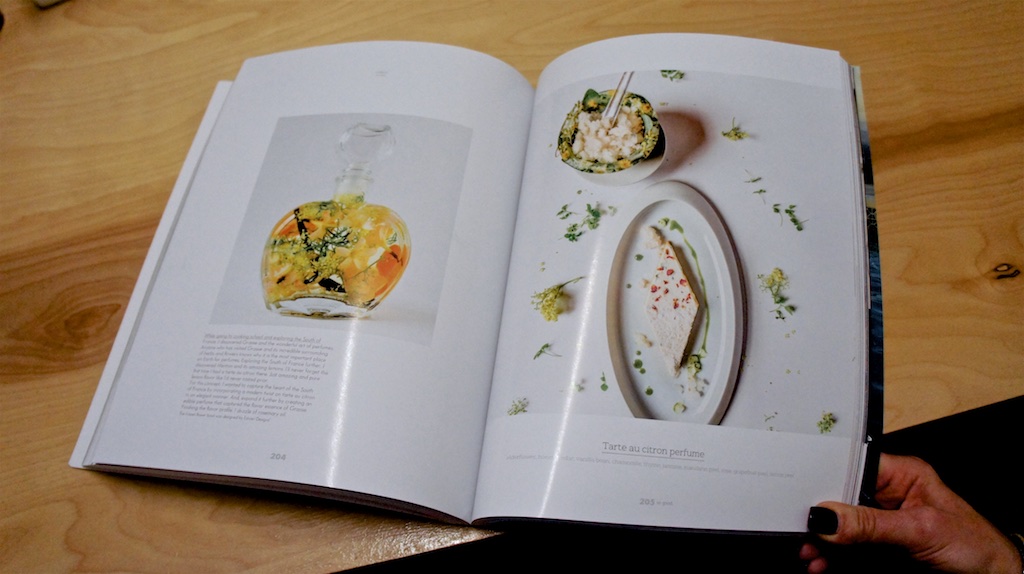 During his studies over the last five years he's traversed the globe, creating culinary pop-ups in London and coordinating supper clubs with The Shy Chef in Germany. He was asked to guest chef in London with Nuno Mendes and in Singapore with Janice Wong. He was written up in noteworthy international magazines, bloggers and foodies follow his every move,  and most recently he was recognized in so good.. magazine #17 for The Tarte au citron perfumeé, alongside well known and awarded Danish chef Rasmus Kofoed. so good.. magazine is a biannual publication dedicated to professionals of the world of dessert, sweet and savory pastry, ice cream and chocolate. so good.. magazine #9 was his premier nod in the publication. "As I was starting off the new year with new directions and culinary aspirations, I knew so good.. #17 was doing the same as well.  Being chosen to be one of the key chefs/artists to represent this movement was very exciting for me. And to be amongst some of the worlds most talented people was humbling yet exhilarating."
Cortez's training began in Austin, Texas yet quickly escalated to Le Cordon Bleu in Canada, schooling in France—Ecole Lenotre, Ecole de Escoffie, Bellouet Conseil, and L' Amandiers "Ecole de Soleil." He also studied in Italy, Canada, Switzerland, Czech Republic, Poland as well as attending a seminar with Albert Adria at Spain's Chocovic to round out his curriculum vitae.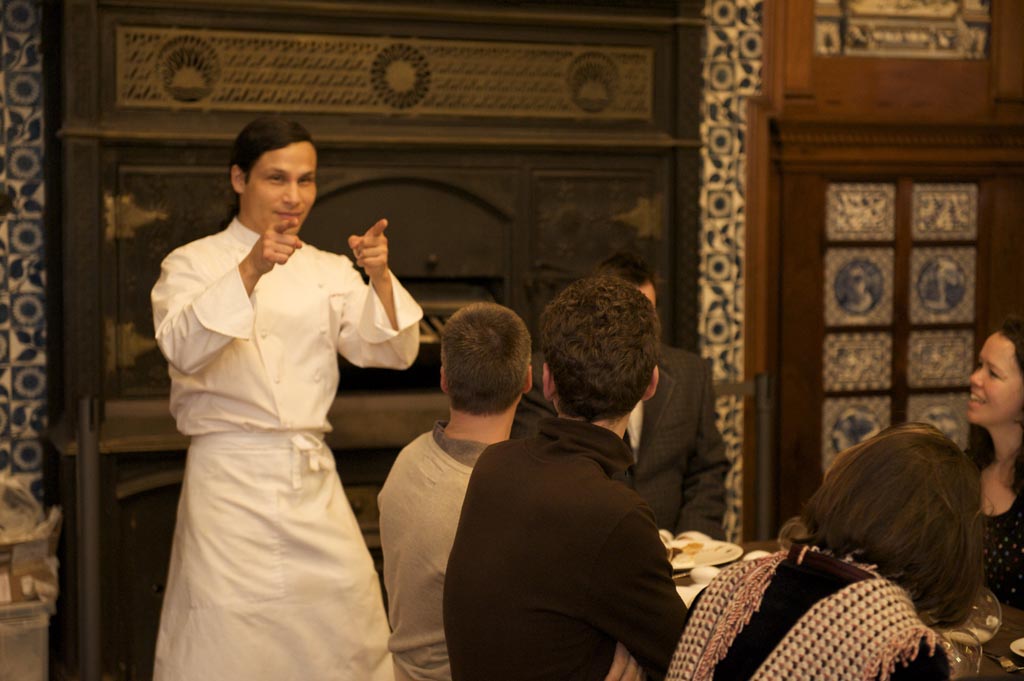 Prior to his international projects, Cortez worked as a personal chef for big wigs and stars like co-founder of Microsoft Paul Allen and movie stars Eddie Murphy and Antonio Banderas. He worked for Murphy for nine months while filming in L.A. and said the star craved gumbo, while actors Antonio Banderas and Melanie Griffith were meat lovers. Cortez said he really enjoyed cooking for Banderas and commented on his unique relationship. "Once he said, 'I am going to cook with you on a Saturday because we are gong to have some friends over and I am going to show you how to make Paella they way we make it back in Malaga.' We ended up cooking for like four hours together and talking about music and soccer and basically, he taught me how to do paella and the paella I still do to this day is what he taught me," said Cortez.
Cortez says chefs rotate between celebrities sometimes working six months but not more than a couple of years, however Cortez was with Allen for five years.  "It was great, it was an amazing job and I got to cook for many incredible people and do wonderful traveling but I actually started missing Los Angeles," said Cortez.
Currently Cortez is working on dining experiences—signature international events held biannually. The dinners have been held in food-forward cities like L.A., Seattle, London and Berlin. Each event requires at least five months of preparation where 12 diners participate over the course of three nights, each evening lasting three hours. "I usually get together with designers—lighting designers, architects and interior designers—and I create a concept and let them know this is what I am thinking. I wanted to create a dining experience of being in the forest at night but it's light, therefore it's called Dark Illuminated Forest.  So [the space is] dark and illuminated…basically I plant the seed with them and they start to create their interpretation," said Cortez.
While the architects and interior designers engage in the ambiance, Cortez composes a menu:
Liquid modules frites:  Mussel bouillon, hot french fry ousse, tempura celery mussel, fired parsley, Orval Trappist Ale gelee.
Thunder in the East:  Smoked pork belly, bamboo risotto and puffed crackers, lemon verbena oil, crushed spicy prawns and ginger.
Faux Stout:  Black truffle veloute, Venere rice puree, Blis maple syrup sabayon.
"I think he's a shaman—he's a guide, a friend…he's an artist." said Tomo Kurokawa, a guest at his dining experience in Los Angeles and blogger for tomostyle, in a video about her experience at the dinner. "There is no way you can categorize him into one role because he takes you on this amazing journey through this dinner experience…My experience tonight was a full on sensory experience that evoked a lot of emotions with every course, and Roberto just seems to have that magic about drawing out certain memories and emotion…with the food."
Cortez is currently a private chef for a family in El Paso and is scheduled for a dining experience in Seattle this year. He says an El Paso experience is on the horizon.
Learn more about Cortez, his book or upcoming events at robertocortez.com
Photographs courtesy of Roberto Cortez