Reporting by Sebastian Immanuel Vargas
Additional writing by Elena Marinaccio
There's an underlying tension to Tino Ortega's work. It stems from the complexity inherent in much of what he does, as he strives to reconcile underlying dualities in a layered mix of old and new, graffiti and gallery, work and family.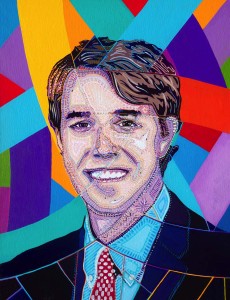 He's collaborated with fellow El Pasoan Peter Svarzbein and Congressman Beto O'Rourke is a fan of his paintings (check out our cover art for the February issue). But Ortega says he avoids political sentiment in his own work, finding inspiration instead in his budding home life. For this self-taught artist who strives to unify street art and fine art, family comes first.
SIV: I understand you're about to be a father. How much of your personal life influences the work you produce?
Ortega: A lot of it influences the work I do. When I get an idea, I sketch it out and sometimes have multiple renditions of them before I make it into a sketch. I paint because I want to. Going to be a father makes me excited and makes me want to work; it puts me in the mood to paint. I try to focus a lot of time with my family and my work so it's inevitable that they'd intertwine.
SIV: I viewed the mural on Texas Ave., which Congressman Beto O'Rourke posted an image of onto his Facebook profile. How did that particular piece come about? Were you commissioned to do the piece or do you purchase the use of the space?
Ortega: The mural on Texas was done for a friend's family who owned the space. It was my first mural I did on my own—I had done a number of other collaborative pieces with other artists—and I did the piece for free. I was glad that Beto O'Rourke was able to show it off in a way. With a piece like that, I try to find an image that'll fit it appropriately. It took me just over a week to find the right image to fit that wall and I guess it fit it perfectly.
SIV: You're showing a new painting at the New York City vanity gallery Broadway Gallery NYC. How did that process come about, how were you approached?
Ortega: I actually submitted my stuff a couple years ago. It was one of those things where you do it and forget about it. A couple months ago I got contacted by one of their curators and they asked me a number of questions about my art. I honestly thought it was a joke because it had been so long since I had submitted my stuff. The more they kept talking about it, the more I realized how serious they were.
I remember in a pre-Facebook time where you'd actually have to go door to door and knock on galleries to see if they'd showcase your work. Being online really makes things a lot easier for getting your name out there. I don't have a website but when people post on their Facebook and tag me in the image, I'm glad that people can appreciate the work that I do.
SIV: Your work combines elements of both street art and fine art. What brought about your interest in unifying the two?
Ortega: It came about in seeing street art in galleries and fine art out in the streets, which was a bit unnerving. The style that I've been known for is derivative of both so I decided to create a hybrid of the two.
SIV: How did that translate in your Texas Ave. mural?
Ortega: I was just trying to be different. I didn't go to art school because I was afraid that it would teach me how to paint what other people want. I wanted to paint what I wanted. I was approached later by many people that said my art incorporates many different styles that other artist's use.
SIV: Do you feel as though your work adds to the political commentary or is it "art for art's sake"?
Ortega: My work is more "art for art's sake." I like the idea that the viewers can be a part of the art. Colors aren't as mixed on the pallet as they are in the eye. You can say that it's a series of smaller painting that make up a large image.
SIV: What sort of medium do you gravitate toward?
Ortega: Honestly, I'll do pretty much anything I can get my hands one. I bought a tattoo kit and drew this rose on my thigh and tattooed it out.  I try to do a little bit of everything. One of the things I've been wanting to do is go back to oils. It was one of the things that I first learned to paint but right now I've been mostly working with acrylics.
SIV: Do you prefer the large-scale pieces like the mural, or smaller ones?
Ortega: I don't have a preference. I guess if I were to have one it would be one that would be most accessible to the most viewers. One of the things that I don't like about murals is that they are stationary, it can't move from that one place. On the other hand, it can empower that one place and it can be known for bringing life to the area.
SIV: You mentioned that you had done collaborative works with other artists?
Ortega: I worked with Peter Svarzbein who was working with the Trolley Projects. We did a couple projects that were temporary pieces that got knocked down. I also helped him out with the "Temple to the Future Project" and contributed some stuff to a plywood project where we were trying to cover the chain link fences downtown with art installations.
SIV: Any new art in the works?
Ortega: For now, I'm going to take some time off for me…I'm working on a piece for my girl right now…but it has to be big. She's my inspiration. I only want to do it on a very large scale. So I'm just working on it in my head right now.
This past year has been very chaotic with regards to painting and I don't have any type of plans but who knows what the future may hold. I don't know where it'll take me but I'm sure it'll open doors.