El Paso's first congressional cheerleader of the arts
There has been a creative explosion in El Paso over the last year from pop-up galleries, art markets, public art programs and the Last Thursdays art crawl, to a local author receiving national acclaim.  Our local Congressman Beto O'Rourke is taking notice and uses social media to share the talent.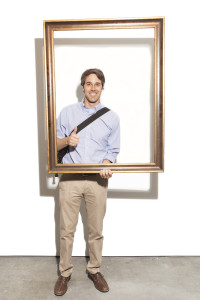 "I like the arts and I am very supportive of it. I really like what is happening in the creative scene and I feel El Paso artists and writers are taking a lead in this area," said O'Rourke. "Artists like Tino Ortega, photographer Peter Svarzbein, writer Benjamin Alire Saenz and Professor of Architecture Robert Gonzalez all are working to define the art/creative scene in the community."
O'Rourke's interest in the local arts was piqued when the first pop-up gallery (Purple Pop-Up, the brainchild of Peter Svarzbein) was erected in downtown El Paso. "I visited the pop-up last summer and purchased a piece of Ortega's work. I really like his style. The painting is at my house now," said O'Rourke. Last summer, when he spotted Ortega's mural work on the San Carlos building Downtown, he snapped a pic and posted it to Facebook. "Yes, I loved that mural. It was an incredible piece of art work," said O'Rourke. (For more on Ortega, see our Q & A with him on our print issue page 12.)
O'Rourke is also a fan of the architectural world through the eyes of Robert Gonzalez, director of Texas Tech's  architecture program and author of Designing Pan-America, a book dealing with how 19th and 20th century U.S. architects and their clients constructed a "visionary Pan America to promote commerce and cultural exchange between United States and Latin America."
Politics in motion
When O'Rourke is not cheering on our local artists he's busy representing Texas' 16th District in the House of Representatives. The Art Avenue was able to speak with O'Rourke about the highs and lows of his freshman year in Congress, where he succeeded and struggled and what projects he is going to focus on in 2014.
When asked how he would grade his first year in Washington on a scale of one to ten, O'Rourke replied, "That's a tough question to answer…I would honestly have to say an eight." O'Rourke says his reply stems from learning which battles to fight and which wars to observe. It didn't take him long to understand his role in the House and how to avoid sensational issues. "Those issues that are in the national news today are hard for me to impact as the new kid on the block, the budget and the sequester." He said he has a greater opportunity to influence issues closer to home. "I need to focus on the local issues and take a proactive approach towards matters that are indicative to the region, such as the VA, bridge wait times and other border issues," said O'Rourke.
In a community with a large active military and veteran presence, it should come as no surprise that one of the first bills O'Rourke sponsored included the military.  "The first bill that I introduced into Congress was to restore military tuition assistance programs that were previously cut through the budget process," said O'Rourke. He also worked to pass an amendment to prevent further furloughs of Department of Defense civilian employees, a large portion of which included the workforce in the region.
Perhaps one of the most notable bills he authored was the Faster Filing Act, which limits the processing time for a veteran's disability claim to 100 days. "Previous to this act, a claim by a vet could take over 450 days to be processed. I find it hard to imagine that this bill won't pass," noted O'Rourke.
International bridges
Residents on both sides of the border are accustomed to long lines on the international bridges connecting El Paso and Juarez. O'Rourke says these lengthy wait times have huge implication on our economic development, on local and international levels.
Lack of manpower to staff all lanes during peak hours has been the issue at hand and one that O'Rourke is willing to tackle. "I am not going to wait for larger bills to pass in Congress. I'd like to try and handle this problem at the local level and see how we can improve wait times on the border," said O'Rourke. To implement this, O'Rourke helped to introduce and pass legislation allowing the use of local resources to reduce the wait times, "It's called the Cross-Border Trade Enhancement Act. What this bill does is it allows local resources to be channeled to staffing the city-owned entry," said O'Rourke. The resources will be funded through an increase in fees at the bridge. Beginning in late January bridge tolls will go up 50 cents.
Political future
In 2014 O'Rourke says he wants to continue to focus on those issues that hit closer to home and create a big impact. He says he can accomplish this by sitting on committees that are directly related to the needs of El Paso. He currently holds seats on the Committee on Homeland Security and the Committee on Veterans' Affairs and by doing this he can relay that information back to El Pasoans in a timely manner.
As the freshman year for O'Rourke closes, he says his success is partly due to his staff; with an office in Washington and another in El Paso, they are able to cover a lot of ground. "We try and have an open door policy. We communicate the daily events through social media like Facebook and Twitter and monthly town hall and veterans meetings. Those meetings really give me an accountability factor with El Pasoans."
If you are interested in reaching congressman Beto O'Rourke you may contact him @ https://orourke.house.gov
Photographed by Brian Wancho