It's often said that people should evolve and not revolve if they want to be successful in any aspect of their life.  It would be safe to say that Rhonda Doré, as an artist, emulates evolution with her emerging painting displayed in thick layered collages to advancements in watercolor pieces and spiritual influenced paintings.  Her last two collections, Sighs Too Deep and The Skies show a softer side of work, almost evoking a sense of serenity.  Kimberly Rene' Vanecek had an opportunity to speak with Doré and shares a few clips from their conversation.
KRV:  This is a new collection, what inspired you to create these pieces?
RD:  I was literally painting without thought when I made the first of them. Just moving the brush. Just going with intuition. When a painter is really engaged in the work, it's not quite clear where things come from. The clouds, for example, on Arch of Heaven. They just … arrived. There are elements in these pieces that remind me of comets and stars, a great whirling universe.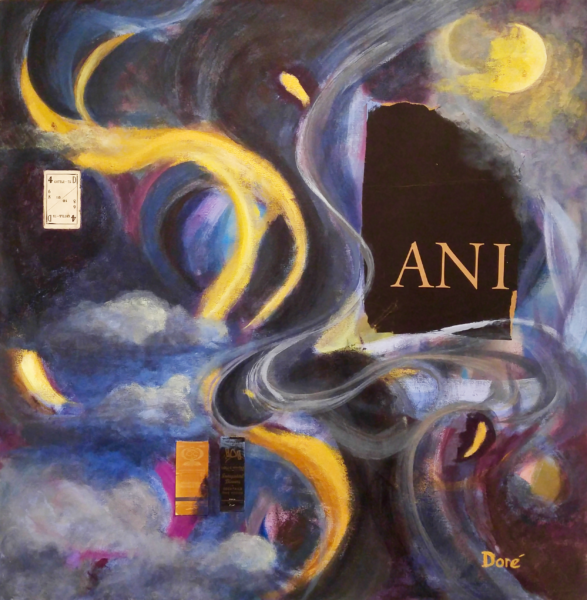 When you paint in the abstract, there's always an element of stepping off a cliff. If I'm painting a watercolor of a lemon tart it's not like that. There's a point of reference. We all know what a tart looks like. You can tell as you move on how close you're getting. Abstract painting is like leaping off without a net. It's harder to know where you're going, but eventually you arrive. Something is at work that's impossible to fully explain.
KRV:  Did you find yourself using colors or techniques you haven't worked with in the past?  If so, how did that feel?  If not tell me what seems to be your method of work that is successful with you.
RD: These are not new colors or techniques for me. Somewhat the opposite because I've returned to more collage in my work, and returned to more color. My last series was very pale and quiet. My process is still much the same: cover up the dreaded white canvas, then see where the brushstrokes take me.
KRV:  Are you familiar with the title of the show Incipere and its meaning?  How does that resonate with you?
RD: I had to look that one up. I wasn't familiar with it, but it means beginning. Since the beginnings of all my abstract paintings are literally to take a brush in hand and just go… it feels like a good word for the show.
KRV:  Where would you like your artwork to hang?
RD:  I see these pieces hanging in a place where people have time to get lost in them. In a spa, where your mind and body relax. Above a bed in a very quiet bedroom. On a big wall in an entry, where you set a tone for the rest of a home. Mostly in a room that invites contemplation. Even though they're contemporary, I'd love to see what they look like in a pale room with graceful Louis XIV chairs.
KRV:  Whose artwork are you currently intrigued by?
RD:  There are these exquisitely beautiful panels painted by Odilon Redon in the Musee d'Orsay in Paris, and I can't get over them. They're florals, but not what you'd expect. They're whisper-soft but with areas of intense color, and in some places you can see the linen showing through. I've seen them in person twice. He painted them as decorative panels for a chateau dining room in 1900-1901. He used all kinds of media on them, including oil and pastel. When the family went broke years later, the French government took them for partial tax payment, and about 8 of them are in the museum. They're just stunning up close.
Rhonda Doré's work is currently on display at The Art Avenue Gallery through May 31, 2018
Images by: Jireh Valdez