By Adair Margo
Pictures courtesy of the Tom Lea Institute
In 2003 as he was looking through art books in Poitiers, France where he teaches Italian Renaissance Art History, Luciano Cheles came across a book on WPA-era (1930s) Texas murals. He looked through it once—then flipped through it again, pausing on the pages where Tom Lea's work was printed. There were giant figures of Comanche warriors, horses, Spanish conquistadors, vaqueros and Anglo settlers on the walls of public buildings across the state, telling the different histories of places named Seymour, Dallas, Odessa and El Paso.
Cheles found something familiar about Lea's figures—something about their classicism and the weighty volumes of their forms. The professor recognized a quality in Lea's scenes that were without turmoil or emotion, but rather intellectual and distilled. For years, Cheles had taught about the artist Piero della Francesca, who was born in Sansepolcro on the border of Umbria and Tuscany in 1415. Though recognized today as one of the greatest masters of the Italian Renaissance, his isolation from artistic centers like Florence and Rome had kept him from being better known. Yes, it was this Piero quality Cheles thought he recognized in Tom Lea, and he set about finding out if he were right.
It wasn't hard for him to find somebody to ask. With a simple Google search of Tom Lea's name, he found my e-mail address. When I received his note via my Outlook inbox during the fall of 2003, I'd owned Adair Margo Gallery for 18 years and had represented Tom Lea for 10. It took no time to respond to Luciano's inquiry: "Is it possible that Tom Lea from El Paso was influenced by the Italian muralist Piero della Francesca?" I knew the answer right away, as I'd recorded Tom Lea's oral history in 1993. He'd recollected one Saturday morning as we conversed, his first trip to Europe in 1930. Tom's voice halted with emotion when he shared visiting Arezzo and entering the Church of San Francesco. "There it was," he said to me, "the pictures I'd been looking for my whole life. We gave a tip to the old sacristano, and he let me touch the bottom of Piero's work. It was lovely."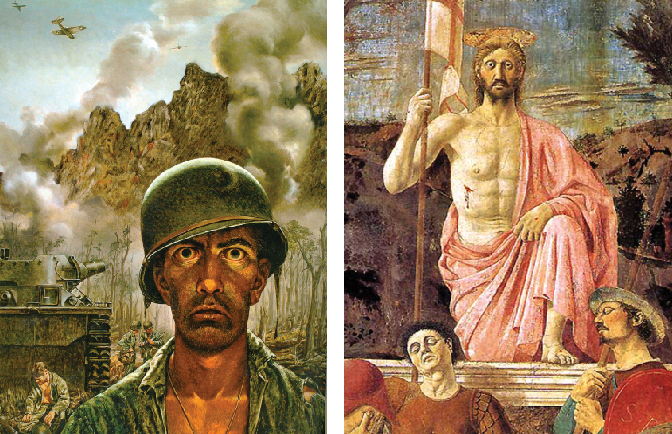 My response to Luciano was clue enough for him to apply for a coveted fellowship to the Smithsonian American Art Museum in Washington, D.C. to study Piero della Francesca's influence on American artists with a special focus on Tom Lea. At the time, I was serving President Bush as chairman of the President's Committee on the Arts and the Humanities and arranged for Luciano to see Tom Lea's "Rio Grande" painting in the Oval Office of the White House once he arrived in D.C. I also invited him to El Paso to speak during Tom Lea Month and was amazed when he juxtaposed the majestic head of Piero's risen Christ in "The Resurrection"(found in Sansepolcro's town hall) with to Tom Lea's portraits of his wife, Sarah, and the shell-shocked marine on Peleliu named "That 2,000 Yard Stare." There could be no doubt about Tom's inspiration!
Meeting Luciano Cheles led to my thinking about the time I spent in Florence, Italy as a Vanderbilt coed studying with Syracuse University's program abroad in 1975. A favorite memory was traveling the Piero della Francesca Trail, tracing his frescoes in Arezzo, Monterchi, San Sepolcro and Urbino. Seeing Piero's "The Legend of the True Cross," "Madonna del Parto," "The Resurrection" and "Flagellation of Christ" had such an impact that, whenever I returned to Italy, I hired a driver to retrace the journey. Each visit was fresh and experiencing Piero della Francesca's masterful works never grew old.
If I drove hours outside of Florence to see Piero's frescos, why wouldn't people who love journeys travel throughout Texas, discovering regional histories through Tom Lea's work, I began to wonder. They could discover the "Pass of the North," "Stampede," "Comanches," "Cabeza de Vaca," Texas Rangers and R.E.B. Baylor, the founder of Baylor University. They could also learn about the Texas Centennial, the Pacific War, the King Ranch, Operation Desert Storm, and an old horse ranch named Randado. They could even drive beyond Texas, going into Mexico and New Mexico, as well as other U.S. cities like Lee Summit, Missouri, Chicago and Washington, D.C. With the work of the great Tom Lea as a guide, there seemed no end to what could be experienced.
In 2013, Texas Highways and Texas Monthly announced the Tom Lea Trail during October's Tom Lea Month. This year Luciano Cheles will travel that trail, again comparing Tom Lea's murals to those of the Italian Renaissance. He'll visit El Paso, Odessa, Seymour and Austin, making presentations on the schedule below. We invite anyone eager for a journey and opportunities to learn to join us in October.
"Tom Lea and the Italian Renaissance" with Luciano Cheles
Tuesday, October 7 El Paso, TX
The University of Texas at El Paso UTEP Library, Blumberg Auditorium, 4 – 6 p.m.
Panel Discussion with Dr. Mimi Gladstein, Professor of English Literature Ron Weber, Associate Professor of Ancient History/Director of the Humanities Program and the Masters of Arts in Interdisciplinary Studies Program Max Grossman, Assistant Professor of Art History
Friday, October 10 Odessa, TX
Ellen Noel Art Museum of the Permian Basin Rodman Auditorium, 12 – 3 p.m.
Monday, October 13 Seymour, TX
Seymour Chamber of Commerce Seymour City Hall, The Whiteside Auditorium for Performing Arts
Reception 6 p.m.
Lecture 7 p.m. Wednesday,
October 15 Austin, TX
Bullock Texas State History Museum,
Texas Spirit Theatre, 7 p.m.
For information call Lauren Ruiz at the Tom Lea Institute, El Paso, Texas 915-533-0048 • lruiz@tomlea.net