On a bleached-white hospital pillowcase, a cluster of brittle brunette curls are left behind by a resilient cancer warrior. The deep purple under her eyes matches the bruises on the tops of her hands but they go virtually unnoticed; her smile steals the show. She grasps the hand of a fellow fighter saying, "Bald but bold baby, we got this." She soaks in the surrealistic moment of her last round of chemo. The hot pink and lemony yellow sequined scarf wrapped around her head represents an outward manifestation of an inner vibrancy. Even though this woman may seem like one-in-a-million, the reality is, she is one in eight. That is, the one out of every eight women who will fight breast cancer in their lifetime, according to the Breast Cancer Research Foundation. With statistics like this, one would think hope would be hard to come by; but they'd be wrong. Centers like The Rio Grande Cancer Foundation aim to instill hope in the cancer community by being a strong advocate, and by providing programs for patients and their families, education, support and medical services that a patients' insurance may not be able to cover.
"Women are beautiful and they deserve to feel that way at all times," says Mellodi Gaston, a 10-year cancer survivor and life-long El Paso resident. "Especially when fighting a disease like cancer that can rob you of outer beauty for a time." The Four Seasons Beauty Program, supported by RGCF, which provides free wigs, hats, scarves and post-mastectomy garments to women going through a cancer diagnosis, understands that. The foundation saw a need and an opportunity in their Four Seasons program to reach out past the cancer community to educate El Paso's young people. A partnership was created with the Ysleta, El Paso and Socorro School Districts for a program called FACCE, Fine Arts Creates Cancer Enlightenment. The project takes young artists in local schools and gives them a canvas on which to both create art and also give back to the community in a unique way. Art students are given a mannequin head to paint, decorate and design that will later be adorned with a wig sterilized and styled by local cosmetology students from all over El Paso. These wigs are then put on display at the Four Seasons Hair Salon where women fighting breast cancer can go for makeovers and to pick out a new hairstyle. Their website explains that the beauty program is there to provide "practical assistance for women experiencing hair loss due to chemotherapy." Cindi Martinez, the program coordinator at RGCF explains, "We felt that through a program like this we could establish a platform whereby we could engage our teen population and influence their behavior and attitudes toward cancer and its side effects. The cooperation between our organization and the local school districts has paved the way for younger age groups to become more cognizant and responsive to community service."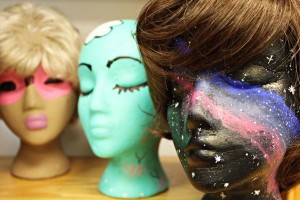 FACCE has been going strong since its inception in the fall of 2010. Since then, over 223 wigs have been given to women and put on display all around El Paso. Meanwhile, the students are gaining an awareness of cancer's effects on the human body, family dynamics, and emotional side effects as well. "Our goal was two-fold, to add color to a white 'expressionless' wig head and inject a sense of warmth, color and hope for patrons who visit our offices, and to involve our youth in meaningful dialog and self-discovery," says Martinez. One mannequin has a stunning sunflower draped across its face with a cloudy blue dusting, and another portrays a bold lioness with intricate noble features. To many, these mannequins can represent the active role of art in the healing process.
The staff at the RGCF know how important it is for a community to come together to support and encourage those fighting a cancer battle. "RGCF is continually considering the outcome of the patient their life beyond cancer," says Martinez. Although their mission is simple, it is necessary: to ease the burden of a cancer diagnosis, and a strong commitment to care for and support El Paso's cancer community. The Rio Grande Cancer Foundation, El Paso's high school students, local cosmetology students, and all the volunteers and sponsors helping these one-in-a-million women are hitting cancer where it hurts…in the FACCE.