How Augment El Paso is encouraging 3D art, one pixel at a time
By Victoria G. Molinar
Images courtesy of Augment El Paso
Despite the substantial amount of time that goes into making three-dimensional pieces, Augment El Paso founder and CEO David Figueroa said many people don't recognize computer-generated images as art, a misconception he aims to debunk. "Digital artwork still doesn't get a lot of respect," Figueroa said. "People don't see digital artists as actual artists when a lot of them work just as hard as traditional artists, sometimes a little bit harder. "Along with creating original work, his organization has collaborated with artists around the city to augment their 2-D paintings into moving 3-D images.
Through accessible devices such as smartphones and tablets, augmented reality is just a tap and download away. If you have either gadget near you, go to the iTunes or Amazon app store and look up and download the free Augment El Paso app. Once the app is installed, scan the images accompanying this article, and there you have a sample of augmented reality.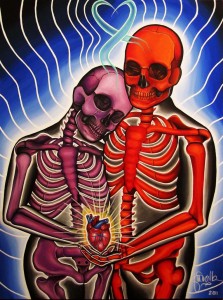 In her painting "Lovers Eternally Bound," local painter and tattooist Francella Salgado was delighted to see the purple and red skeleton figures interact with a tap on the screen.
"I was completely thrilled," said Salgado after seeing her augmented work. "It's very exciting but it's shocking in a way because you're seeing something that you created come to life and it's amazing."
Augment El Paso formed in March of last year when Figueroa was looking for an outlet to display his 3-D pieces. After graduating from The Art Institute of Phoenix with a bachelor's degree in game art and design and another bachelor's in computer arts and animation, he hoped he would find work at a studio, but ultimately decided to move back to El Paso to initiate creative opportunities and build a team.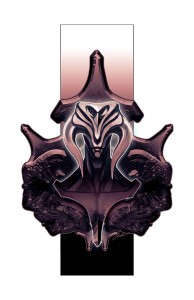 He reached out to former Art Institute friends Jacob Gray and Carlos Luevano and teamed up with 3-D and animation artists Ruth Zehntner, Robert Castañeda and Chelsea Kubesh. From there, they created the Augment El Paso app and held their first showcase at the Back In Black Creative Services studio in November of last year.
When children and adults huddled in front of posters with the tablets that were provided at the show, gasps and shrieks of delight left their mouths as they watched the images before them pop out, rotate and bounce.
"It's awesome to be able to bring this experience to our community and get all the positive feedback we've been having," said Zehntner, who worked as a texture artist in the Lo Coloco Films animated feature Ana y Bruno. "I think it's a great way of getting people to appreciate art and get excited to interact with it, especially for the little ones. Hopefully we can see more of this forward thinking develop in El Paso."
Zehntner's piece, "Dash 7," allowed her digital image of a van to drive passed various signs and a gas station.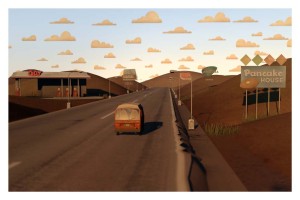 "It's based on my love for road trips and roadside Americana signs," Zehntner said.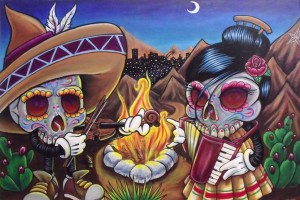 The show also featured augmented artwork of Salgado and her fellow tattoo artist Luis House, whose piece "Harmony" included sound as the skeleton musicians played their violin and accordion by a campfire.
As many may imagine, augmented pieces can take hours or weeks to do. Using various software such as Blender, 3DS Max and Maya, the artists create their three-dimensional images. They then make a seam in the model and unwrap it ("Kind of like an animal pelt," Figueroa explained) and open the image in a 2-D application to paint it. To turn the figure into an animation, they create a skeleton for it, including joints so it can rotate. This process can also take hours to days. Once the digital models are complete, Castañeda engineers the software they need to allow the images to be tracked with the Augment El Paso app.
Figueroa said he doesn't want people to feel too intimidated to learn a thing or two about 3-D technology. He plans to lead workshops, starting with an introduction to the use of free 3-D software and low-poly game modeling. The workshops will be held at the El Paso Fab Lab, a digital fabrication facility that allows the community to materialize their inventive ideas with workshops and innovative machinery.
Figueroa has many collaborative projects in the works with Fab Lab, where he will hold Augment El Paso's next showcase this fall. He said two groups also might work together to create digital mapping projections, in which images are projected onto objects in order to create an augmented spatial reality.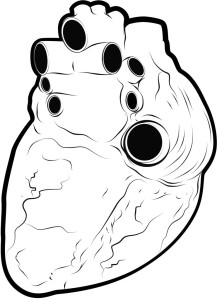 "We're kindred spirits because we're pursuing technology that's cutting edge and although our projects are really different, we envision our organizations to do the same thing, which is to give people exposure and access to new technologies like augmented reality and digital fabrication," said Fab Lab co-owner Cathy Chen. "It's really two sides of the same coin."
Figueroa said he also wants Augment El Paso to increase its educational outreach through multiple collaborations. To help pursue this goal, the group is in the process of becoming a non-profit.
Some members of Augment El Paso were Career Day guests at Jane Hambric School, where they discussed their various degrees and careers and showed the children a few augmented pieces. They also teamed up with Fab Lab to introduce children to augmented reality and 3D modeling at the 3D Studio Art Lab at the Stanlee and Gerald Rubin Center.
Outside of augmenting paintings on a canvas, Figueroa said the group also plans to augment various Downtown murals and even buildings, which he added would take quite some time. With such goals in mind, it might be safe to say that augmented reality will be a vital component in El Paso's art scene.
For more information, visit AugmentEP.com and facebook.com/AugmentEP