Internationally recognized, nationally acclaimed and locally celebrated, five artists from the local southwest area have been featured in a premier print shop's quarter-century retrospective of the press's most notable artists.
Flatbed Press, based in Austin, TX, celebrated its' 25th year anniversary by featuring 80 artists who have collaborated with the press– of the prominent artists honored, five were from the southwest and three attended an event at The Art Avenue on June 23 in celebration of their achievements. Artwork by Ricky Armendariz, Suzi Davidoff, Celia Muñoz and Luis Jimenez was shown at the event.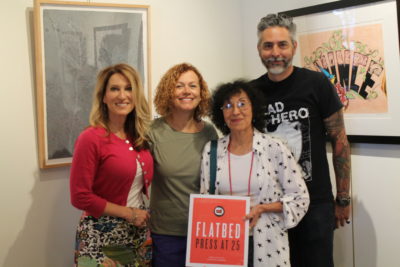 "What [The Art Avenue Gallery] currently have on exhibit is like no other show," said Kimberly Rene' Vanecek, owner, The Art Avenue Gallery. "These talented artists showcase etchings, monotypes, silkscreens, lithographs and more. You don't see this kind of exhibit locally and the quality of art that is being produced by artist from our community is outstanding."
Originally founded in 1989 by Katherine and Mike Brimberry, Flatbed provides studio space for artists where they can work to create limited editions of original works including lithographs, woodcuts, monotypes, etchings and more. Many works produced at Flatbed have been collected by museums such as the Museum of Modern Art (MoMa), the Whitney Museum of American Art, the Metropolitan Art Museum, the Museum of Fine Arts and others.
One such artist whose work retains a permanent place in the Metropolitan Museum of Art is Davidoff. Her career as a professional artist now spans several decades. She is based in El Paso, TX, and seeks to produce synergetic pieces on various mediums exploring the structure of the natural world. Materials used in her work include charcoal, oil, gold leaf, moss, clay, cochineal, and dirt.
Many of these supplies, which were gathered on her walks outdoors, are rubbed into the surface of the paper.
"By being out there and hiking and observing, by touching and collecting this stuff…and then putting it all back together in the studio, it connects the act of walking with the act of making art," said Davidoff in a previous interview with Kimberly Rene Vanecek at The Art Avenue. "So it all comes together and that's the basis of the work."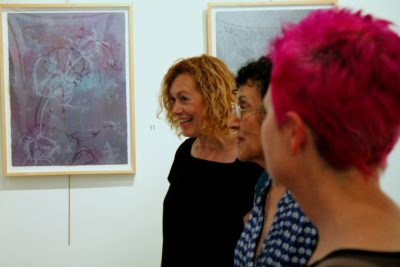 The southwest landscape has not only been a source of inspiration and creativity for Davidoff, but also for Armendariz.
Armendariz creates unique drawings, prints, and paintings by producing images that contain biographical, cultural and historical references. His work exudes references to southwestern landscape and mythological symbolism found in Greek, Roman and Mexican-Indian traditions.
For example, Modern Prometheus Unbound (Remix) is a new twist on the age-old mythological tale, Armendariz said. This was just one of several prints shown at the Flatbed at 25 artist talk and demonstration event at The Art Avenue on June 24.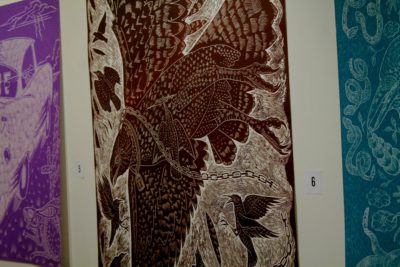 Creating large prints, such as Modern Prometheus Unbound (Remix) can be a lengthy process. After sketching the outline of his work, Armendariz carves the design into a medium, such as wood and then the design is inked and pressed– the entire process can take up to several months depending on size.
"Carving is very repetitive, but [it's] the part where I can be the most expressive," said Armendariz in an interview with the San Antonio Current, an online news publication. "I have to be very aware of my mark-making. I can't zone out. I have to be very present. One mistake and I have to start over from scratch."
Armendariz now lives in San Antonio, TX and works as a professor at the University of Texas at San Antonio teaching all levels of painting and drawing for graduate and undergraduates classes.
"It was an honor to have the work of such talented El Pasoans in our gallery," said Jorge Calleja, Creative Director at The Art Avenue. "It comes to show the caliber of artists we have from our city."
Muñoz, another local artist featured in Flatbed Press at 25, creates multi-conceptual artwork which involves lens-based texts and images inspired and influenced by personal and social issues.
"Once, I thought that being a Catholic Chicana from El Paso were three strikes against me," said Muñoz in an interview with Los Angeles Times. "Now, that is precisely where I draw my material."
Muñoz began her artist journey in advertising. "It was my first real interest," said Muñoz. "I would spend hours looking through top newspaper and magazine advertisements and then started drawing."
Muñoz decided to become an artist and printmaker at the age of 42, with two careers already behind her–in advertising and as a grade school art teacher. Her style has morphed, now incorporating photography and drawing which are printed onto a silkscreen.
"You have to be aware of relationships, especially with boyfriends," said Muñoz with a laugh, in reference to the inspiration behind her print Sweet Nothings. "That's why condoms are mixed in with the candies." 
Muñoz is the recipient of several awards including the National Endowment for the Arts Fellowship Awards in Photography and New Genres, CAA Committee on Women in the Arts Recognition Award, The Outstanding Centennial Alumnus by University of North Texas College of Arts and Sciences and many others. Her work has been nationally and internationally exhibited and even included in the Whitney Museum of American Art 1991 Biennial. Her work is now in various private and public special collections of major museums, universities and corporations.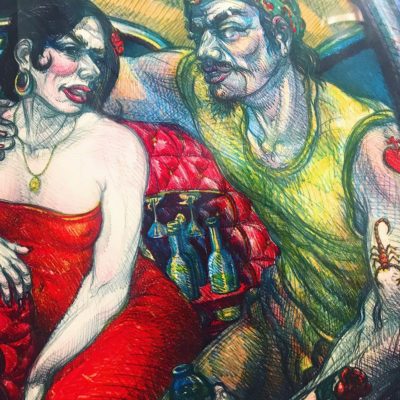 Private collector and local El Pasoan Juan Sandoval graciously loaned The Art Avenue Gallery three works by internationally recognized artist Luis Jimenez, who was also featured in Flatbed Press at 25. For a limited time, these works including Cholo in Lowrider Van, will be on display at the gallery throughout the month of July.
While each artist's style varies, their recognition in Flatbed Press at 25, should not go unnoticed. At the artist talk and demo, Muñoz stated it is an honor to be featured in this book. "This book is very historical," said Muñoz. El Paso is well represented by these five artists.
To check out their individual works for sale or to buy the book, visit our gallery at 1618 Texas Avenue or contact The Art Avenue at 915.213.4318 for more information.